Answer
Answer
Posteroanterior (PA) chest radiographs show unilateral apical opacity (as seen in the image below) or just asymmetry of the apices greater than 5 mm. Local rib destruction can sometimes be observed. Lordotic chest views can be beneficial, but the findings can also be misleading. In the early stages, Pancoast tumors are difficult to detect on PA chest radiographs because of the difficulty in interpreting overlying shadows at the apices.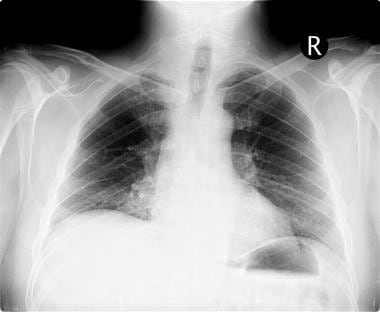 Pancoast tumor. A 53-year-old man with a 50 pack-year history of smoking began experiencing upper back pain for several weeks. PA chest radiograph shows asymmetry of the apices (superior sulcus). The right apex is more opaque than the left. When the image is enlarged, the partially destroyed second and third right posterior ribs near the costovertebral junction can be seen.
---
Did this answer your question?
Additional feedback? (Optional)
Thank you for your feedback!