Answer
Answer
Staging of Pancoast tumor involves the tumor, node, and metastasis (TNM) classification system, in which T indicates site and size of the primary tumor, N is related to nodal involvement according to site, and M indicates the presence or absence of distant metastases. These tumors are, at a minimum, T3N0M0 (T3 for chest wall invasion, stage IIB), and they are considered T4 lesions if the brachial plexus, mediastinal structures, or vertebral bodies are involved at the time of presentation. When supraclavicular nodes are involved, they are designated as N3 nodes, although they may be the first nodal station involved. Metastatic tumor in the ipsilateral nonprimary-tumor lobe of the lung or metastases to other organ systems is considered M1. [9]
(Pancoast tumors and their associated morbidities are presented in images below.)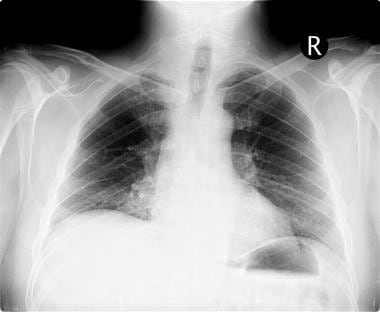 Pancoast tumor. A 53-year-old man with a 50 pack-year history of smoking began experiencing upper back pain for several weeks. PA chest radiograph shows asymmetry of the apices (superior sulcus). The right apex is more opaque than the left. When the image is enlarged, the partially destroyed second and third right posterior ribs near the costovertebral junction can be seen.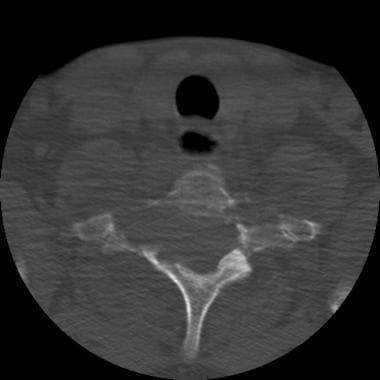 Pancoast tumor. Axial nonenhanced CT image of the upper dorsal spine demonstrates a soft tissue mass destroying the vertebra on the right and the right posterior elements, including the pedicle and part of the posterior spinous process.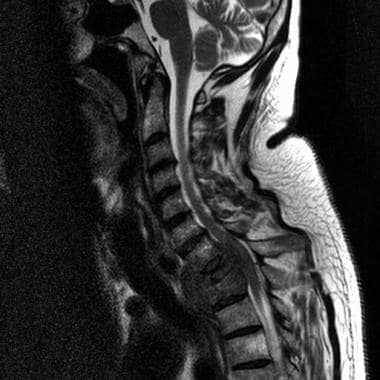 Pancoast tumor. Sagittal fast spin-echo T2-weighted MRI shows collapsed vertebrae and cord compression at C7, T1, and T2 caused by a soft tissue mass.
---
Did this answer your question?
Additional feedback? (Optional)
Thank you for your feedback!