Answer
Answer
CT plays a significant role in workup of solitary pulmonary nodules. CT scans may also help establish a specific diagnosis in some patients. CT densitometry may help differentiate between benign and malignant lesions. In addition, CT scans may help diagnose arteriovenous fistulas, rounded atelectasis, mucoid impaction, and lung infarcts. CT scans may also help identify a fungus ball that is not well delineated on a chest radiograph.
A peripheral nodule with an ill-defined, irregular, and spiculated border is malignant in more than 90% of patients. In addition, air bronchogram findings and pseudocavitation (focal lucency) are seen more commonly in malignant nodules. Cavitation, demonstrated in the image below, may be a feature of malignant and benign lesions.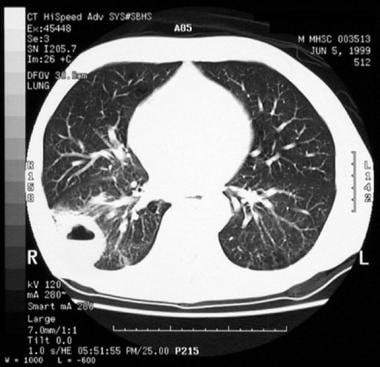 Non–small cell lung cancer. CT scan shows cavitation and air-fluid level.
The thickness of the wall cavity may be helpful in distinguishing between benign and malignant lesions. A wall of less than 1 mm indicates a benign lesion in 95% of patients, and a wall thickness of more than 15 mm indicates a malignant lesion in more than 80% of patients.
---
Did this answer your question?
Additional feedback? (Optional)
Thank you for your feedback!