Answer
Answer
PET is one of the most rapidly emerging modalities for the evaluation, staging, and posttherapeutic follow-up of cancer. [21] PET combines the functional and anatomic aspects of the lesions. PET primarily depends on the metabolism of glucose, which is usually high in tumor cells. By measuring the standardized uptake values (SUVs) within the lesions, the malignant lesions (which usually have values greater than 2.5) can be reliably differentiated from benign lesions in most cases. However, the values can overlap.
(See the images below.)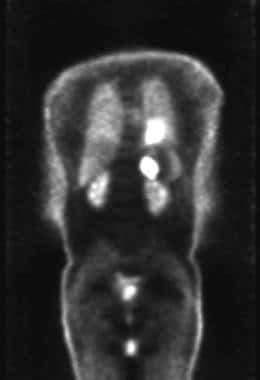 Lung cancer, small cell. Coronal positron emission tomogram shows abnormal areas of increased metabolic activity in the left hilar and left adrenal regions consistent with a hilar tumor with left adrenal metastasis.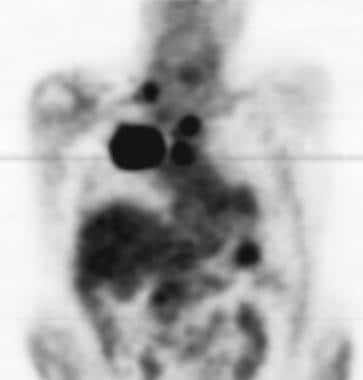 Lung cancer, small cell. Coronal positron emission tomogram shows a large focal hypermetabolic area on the right consistent with a large mass in the central portion of the right upper lobe. Multiple other smaller hypermetabolic areas suggest lymph-node metastatic disease in the chest, abdomen, and right supraclavicular region.
PET can be used for staging purposes by determining nodal involvement and distant metastasis. [22] CT is usually used along with PET for anatomic comparison. Some studies have shown that PET is more sensitive than CT for staging purposes. Other studies have also shown that PET has good sensitivity in detecting bony metastasis.
FDG-PET or PET/CT is recommended in patients with clinical stage I or II LS-SCLC who are being considered for curative treatment. If ES-SCLC is established, FDG-PET or PET/CT is optional for further staging. [21, 22, 23] It is less commonly used in patients with SCLC than in patients with NSCLC because most patients with SCLC are not candidates for surgery. PET is also useful for evaluating cases in which recurrent disease is questionable. [27, 28, 29]
According to an Agency for Healthcare Research and Quality (AHRQ) study of imaging for the pretreatment staging of SCLC, FDG PET/CT is more sensitive than MDCT for detecting osseous metastases; FDG PET/CT is more sensitive than bone scintigraphy for detecting osseous metastases; and standard staging plus FDG PET/CT is more sensitive than standard staging alone for detecting any distant metastases. [25]
The main limitations of PET use are its cost, its limited availability, and the lack of expertise in performing the examination.
---
Did this answer your question?
Additional feedback? (Optional)
Thank you for your feedback!