Answer
Answer
Bones are the most common sites for metastatic disease in SCLC. Metastatic disease is usually seen as multiple asymmetric areas of increased uptake, mostly in the axial skeleton.Bone scanning is used as one of the tools for staging the SCLC, as well as for follow-up. A normal bone scan result usually excludes metastatic disease; however, in rare cases, aggressive osteolytic lesions with little bone reaction may not be evident. Similarly, benign conditions such as fractures or degenerative disease may occasionally be confused with metastatic disease.
(See the image below.)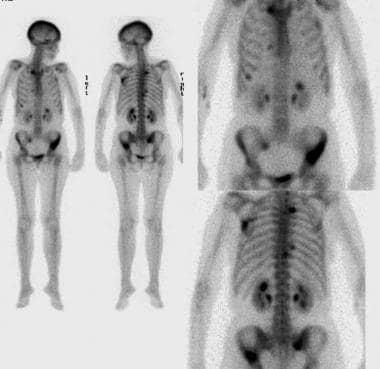 Lung cancer, small cell. Whole-body nuclear medicine bone scanning with anterior and posterior images reveal multiple abnormal areas of increased radiotracer activity in the pelvis, spine, ribs, and left scapula. These findings are consistent with bony metastatic disease. The bones are commonly affected in patients with small-cell lung cancer.
---
Did this answer your question?
Additional feedback? (Optional)
Thank you for your feedback!