Answer
Answer
Chest radiographs may show unilateral hilar enlargement, increased hilar opacity, a perihilar mass, mediastinal mass, or a combination of these. Less commonly, small cell lung cancer (SCLC) may appear as a solitary pulmonary nodule. (See the images below.) [33]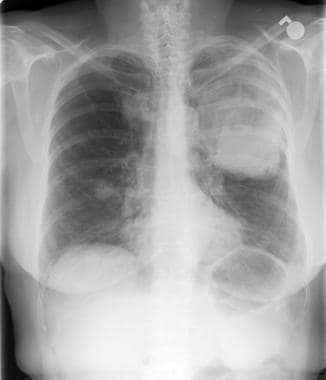 Lung cancer, small cell. Frontal chest radiograph shows extensive disease. A large mass is noted in the left mid lung with an opacity extending to the upper lung. Also present is a right lower lung nodule that suggests a metastatic deposit. Increased right paratracheal opacity indicates lymphadenopathy. A small left pleural effusion is present, with blunting of the costophrenic recess.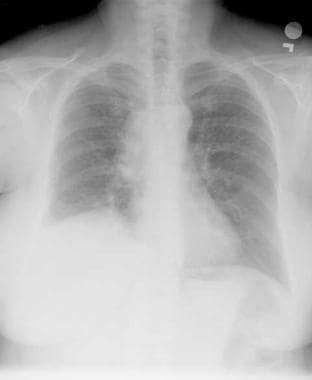 Lung cancer, small cell. Frontal chest radiograph shows increased opacity in the right hilar and paratracheal region, with thickening of the right paratracheal stripe. Some volume loss is also shown in the right lower lobe. Small-cell lung cancer frequently appears as a hilar or mediastinal mass.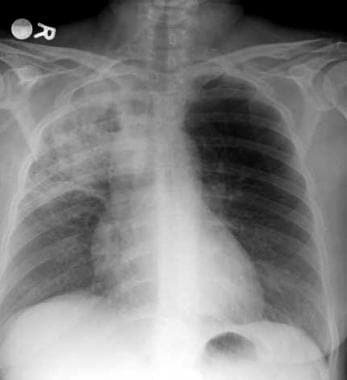 Lung cancer, small cell. Frontal chest radiograph shows obstructive pneumonitis with atelectasis of the right upper lobe. Increased opacity in the right tracheobronchial and paratracheal region suggests a mass or lymphadenopathy in that region.
Compression of the bronchi is relatively common in SCLC because of the central location of the tumor in most cases. About 30-50% of SCLCs show evidence of obstructive pneumonitis on the initial presentation. SCLC can appear as segmental or lobar atelectasis with or without an obvious hilar mass. The S sign of Golden is seen when a collapsed upper lobe forms a meniscus concave toward the hilum and when an enlarged hilar mass forms the convex meniscus of the S. Occasionally, endobronchial growth or bronchial compression may be appreciated as a bronchial cutoff or filling defect.
Thickening of the right paratracheal stripe may be an indication of right paratracheal lymphadenopathy. With massive subcarinal lymphadenopathy, widening of the carinal angle may occasionally be observed. Subtle changes of hilar asymmetry, increased opacity, a convex or lobulated outer hilar border, or any change from a previous radiograph should be viewed with suspicion.
Involvement of pleura or pericardium may result in pleural or pericardial effusions. Rarely, involvement of a pulmonary artery may result in compression of the artery with oligemia in the area of distribution. Invasion of pulmonary artery may result in pulmonary metastatic lesions. Large mediastinal masses may lead to lymphatic obstruction, which may result in reticulonodular opacities in the lung. Lateral views are complementary to the frontal views and help in assessing the mediastinal abnormalities, especially in the retrosternal and hilar regions. Paratracheal masses and thickening of the posterior wall of the bronchus intermedius may be seen on the lateral view.
The degree of confidence in radiography is low, because a bulky mediastinal mass may also be seen in a variety of conditions other than small cell lung cancer.
---
Did this answer your question?
Additional feedback? (Optional)
Thank you for your feedback!