Answer
Answer
Radiographic findings in diffuse KS consist of 2 major patterns: linear interstitial nodules and fluffy ill-defined nodules. Coexistence of the 2 patterns is not uncommon. Radiographic appearances of pulmonary KS are among the most distinctive seen in patients with AIDS; even subtle abnormalities should be viewed as suggestive of pulmonary involvement in a patient with known mucocutaneous disease.
There is a tendency toward a perihilar distribution. This reflects the bronchovascular-centric nature of the disease, with characteristic thickening along bronchovascular bundles. The thickening becomes more nodular with tumor progression, with eventual confluence of poorly marginated nodules leading to dense airspace consolidation. The middle and lower portions of the lungs are affected more frequently than the upper zones.
Classically, nodules in KS are described as flame shaped or spiculated. They typically measure 1-2 cm in diameter and frequently number more than 10. Septal lines may be seen as a result of lymphatic obstruction or tumor invasion (see image below).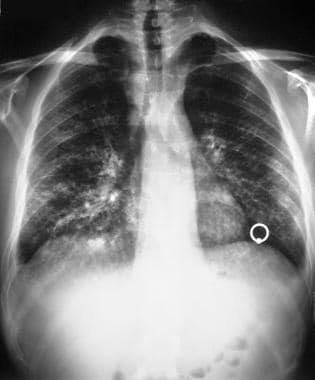 Peribronchial thickening, nodularity, and septal lines in a patient with AIDS and pulmonary involvement of Kaposi sarcoma.
The less common, focal form of KS appears as segmental, lobar, or masslike consolidation.
Airway involvement is common, occurring in as many as 75% of patients and occasionally leading to distal atelectasis. Effusions are common (30-90% of patients) and may be unilateral or bilateral. Hilar or mediastinal lymphadenopathy is reported in 10-16% of patients, although it is rarely bulky and is often not appreciated radiographically.
---
Did this answer your question?
Additional feedback? (Optional)
Thank you for your feedback!