Answer
Answer
A chest radiograph is usually the initial examination in patients in whom thoracic KS is suspected, because radiographic appearances of pulmonary KS are among the most distinctive seen in patients with AIDS; even subtle abnormalities should be viewed as suggestive of pulmonary involvement in a patient with known mucocutaneous disease.
An accurate diagnosis of pulmonary KS can be established by using computed tomography (CT) scanning in 90% of patients. The role of magnetic resonance imaging (MRI) in the diagnosis of KS has not been defined. Ultrasonography of the thorax is useful in the evaluation of pleural disease and for guiding therapeutic thoracentesis. Radionuclide imaging is a useful adjunct to radiography and CT scanning in selected patients; it is not always possible to differentiate KS from opportunistic infections by using anatomic imaging. [4, 6, 7, 8, 9]
(The radiologic characteristics of pulmonary Kaposi sarcoma are depicted in the images below.)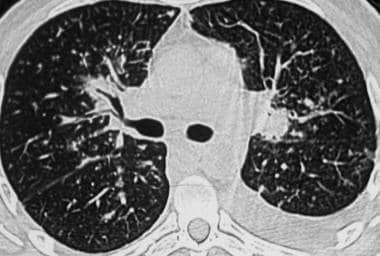 Marked peribronchovascular thickening on high-resolution CT in a patient with AIDS and pulmonary Kaposi sarcoma. Parenchymal nodularity and a unilateral pleural effusion are present.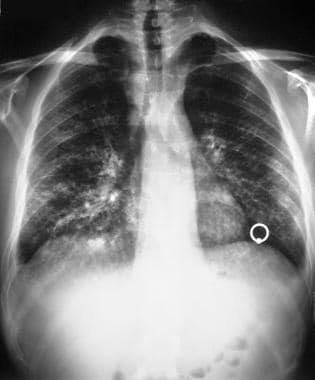 Peribronchial thickening, nodularity, and septal lines in a patient with AIDS and pulmonary involvement of Kaposi sarcoma.
---
Did this answer your question?
Additional feedback? (Optional)
Thank you for your feedback!