Answer
Answer
Paraseptal emphysema usually involves the distal part of the secondary lobule and is therefore most obvious in subpleural regions. Paraseptal emphysema may be seen in isolation or in combination with centrilobular emphysema. It is often asymptomatic, but it can be associated with spontaneous pneumothorax in young adults. As demonstrated in the image below, HRCT shows the bullae or air cysts associated with paraseptal emphysema well despite their thin walls.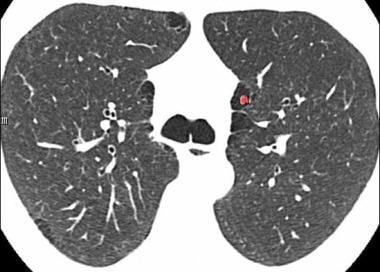 High-resolution CT (HRCT) shows subpleural bullae consistent with paraseptal emphysema. Red mark shows the size of a normal acinus (Corrêa da Silva, 2001).
---
Did this answer your question?
Additional feedback? (Optional)
Thank you for your feedback!