Answer
Answer
Common HRCT scan findings in early asbestosis are intralobular, small, rounded or branching opacities; thickened interlobular septa; subpleural curvilinear lines; and parenchymal bands. [3, 12] The interlobular septal lines typically represent fibrosis. With progression of disease, honeycombing is seen. [11, 14, 15]
Similar to the radiographic appearance, the findings described above predominantly involve the subpleural regions of the lower lung zones. As most of the abnormalities seen in mild asbestosis may be confined to the posterior basal lung zones, the CT scan study should include images with the patient in the prone position to differentiate normal dependent parenchymal opacity from mild subpleural fibrosis. CT scans of patients with asbestosis appear below. [10]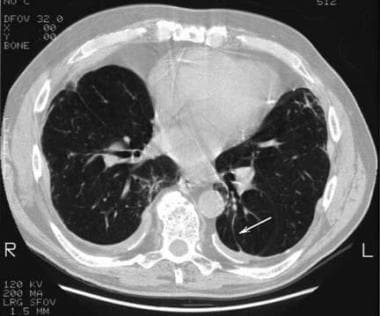 Asbestosis. High-resolution CT scan through the midlung zone demonstrates a parenchymal band on the left (arrow).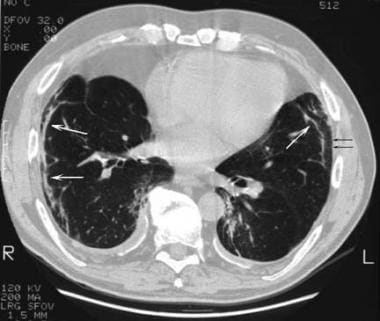 Asbestosis. High-resolution CT scan more inferiorly reveals subpleural, curvilinear opacities bilaterally (white arrows) and thickened interstitial lines (black arrows).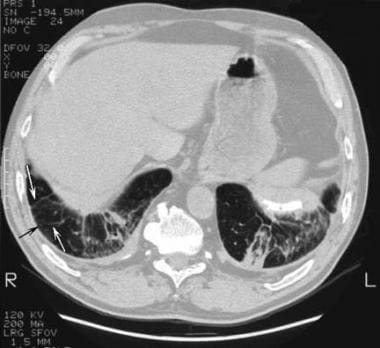 Asbestosis. High-resolution CT scan through the lower lung zone nicely demonstrates thickened septal lines (white arrows) and small, rounded, subpleural, intralobular opacities (black arrow). Also note the calcified diaphragmatic pleural plaque on the left.
On HRCT scans, the earliest lesions observed that indicate fibrosis are believed to be subpleural, intralobular, rounded or branching opacities that correspond to peribronchiolar fibrosis, the earliest microscopic finding. Theoretically, prior to fibrosis, a ground-glass appearance involving the air spaces may indicate alveolitis.
Subpleural lines, which also are present early on, are curvilinear opacities observed parallel to and within 1 cm of the pleura. They are usually 5-10 cm long and likely represent a combination of peribronchiolar fibrosis and atelectasis.
Parenchymal bands are thick, linear opacities that are 2-5 cm long; they course through the lung and contact the pleural surface. These correspond to fibrosis along a bronchovascular sheath or interlobular septa with architectural distortion.
Honeycombing is characterized by thick-walled, multiple, cystic spaces smaller than 1 cm in diameter.
---
Did this answer your question?
Additional feedback? (Optional)
Thank you for your feedback!