Answer
Answer
The progression of asbestosis is divided into 3 stages.
In the first stage, a fine, reticular pattern may be seen, usually at the lung bases, in association with a ground-glass appearance, which may represent a combination of alveolitis and interstitial fibrosis.
The second stage is characterized by progression of the small, irregular opacities into a prominent interstitial pattern. During this stage, a combination of parenchymal and pleural abnormalities may partially obscure the heart border (shaggy heart sign; see the image below) and diaphragm.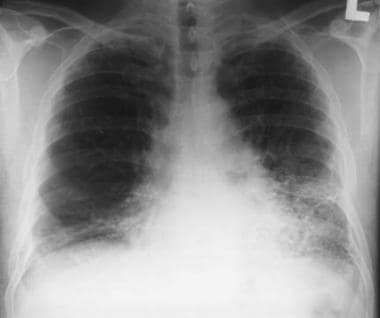 Asbestosis. Posteroanterior chest radiograph in a 54-year-old man with asbestosis demonstrates coarse, linear opacities at the bases more prominent on the left, obscuring the cardiac borders and diaphragm (shaggy heart border sign).
In the last stage, progression of the coarse interstitial pattern and honeycombing to the upper lung zones occurs; in addition, the heart and diaphragm are further obscured.
The radiographic findings described above are rather nonspecific, which may lead to a high false-positive rate. However, the presence of pleural abnormalities and of a compatible clinical history increases specificity in the diagnosis of asbestosis.
Estimates of the sensitivity of chest radiography in the detection of asbestos-related interstitial fibrosis vary widely, from 40-90%.
As previously mentioned, conventional radiographs are relatively insensitive in the detection of early asbestosis and tend to underestimate the severity of disease.
---
Did this answer your question?
Additional feedback? (Optional)
Thank you for your feedback!