Answer
Answer
Chest radiography is the traditional modality used for the initial diagnostic evaluation of asbestosis. [7] "B" readings (standardized forms from the International Labour Organization, filled out by certified "B" readers to assess lung parenchymal and pleural abnormalities related to pneumoconiosis [8] ) often are performed on chest radiographs. These readings have little or no clinical utility.
High-resolution computed tomography (HRCT) scanning is more sensitive than conventional radiography in the detection of early or mild fibrosis, particularly in the subpleural zones. HRCT and standard resolution CT (SRCT) scanning are indicated in patients suspected of having asbestosis. HRCT scanning can define and detect alveolitis and fibrosis earlier than SRCT scanning can. SRCT scanning is essential for detecting lung cancer earlier than chest radiography can. HRCT scanning is excellent in defining lung parenchymal detail, whereas SRCT scanning images the entire lung and is therefore more likely to detect a malignancy. [1, 9, 10, 4, 11, 14, 15]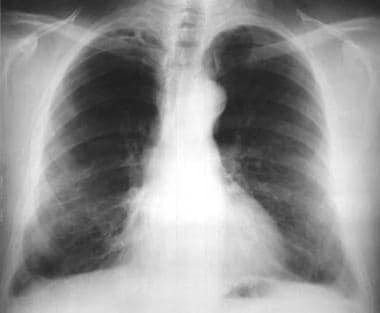 Asbestosis. Posteroanterior chest radiograph reveals a few reticulonodular opacities at the lung bases consistent with mild asbestosis.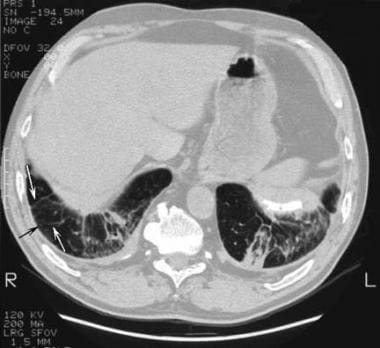 Asbestosis. High-resolution CT scan through the lower lung zone nicely demonstrates thickened septal lines (white arrows) and small, rounded, subpleural, intralobular opacities (black arrow). Also note the calcified diaphragmatic pleural plaque on the left.
---
Did this answer your question?
Additional feedback? (Optional)
Thank you for your feedback!