Answer
Answer
The overall quality of the study must be initially assessed by looking for artifacts or other sources of error. Reviewing raw cine data at the computer monitor is important to assess for patient motion, breast or diaphragmatic attenuation, and other sources of artifacts (eg, gating abnormalities), as well as to evaluate pulmonary and noncardiac uptake. These raw data are reviewed for every patient study.
Reconstructed perfusion images are then evaluated. The images are displayed in a standardized format as recommended by the ASNC. On top are the short-axis poststress images. The next line has the short-axis rest images. The next 2 lines display the vertical long-axis stress/rest images, and the final 2 lines contain the horizontal stress/rest images. Again, the study is interpreted by viewing the images as displayed on the computer monitor, which allows for manipulation of the images and greater resolution. Images are usually reviewed in both a continuous color format, such as gray scale or hot body, and in a color scale, such as spectrum or hot metal.
Generally, the author views all studies in 3 formats (ie, gray scale, spectrum, and hot metal). Viewing the images in a continuous color format is important because several of the other color scales can artificially create image defects. If a defect is present on the images when viewed with a continuous color format, the other color scales can help visually quantify the significance of the defects. Normal findings on perfusion studies result in almost identical stress/rest images with no defects (see the image below), whereas in patients with infarcted myocardium, the findings demonstrate fixed defects.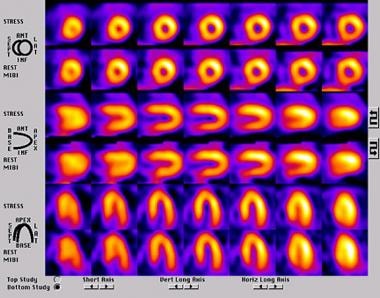 Normal perfusion on a single-photon emission computed tomography (SPECT) perfusion study.
Findings in patients with myocardial ischemia demonstrate reversible defects (ie, defects on the stress images without a similar defect on the rest images) (see the image below).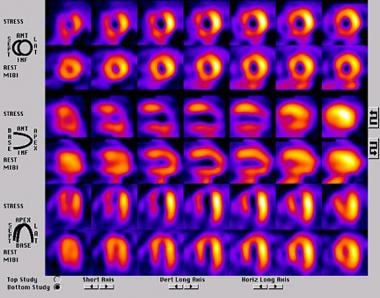 A SPECT perfusion study in a patient with a large degree of tracer redistribution affecting the left anterior descending and right coronary artery territories.
---
Did this answer your question?
Additional feedback? (Optional)
Thank you for your feedback!