Answer
Answer
The aortic arch has been identified as the most vulnerable site for calcifications in the thoracic aorta. Aortic arch calcification (AAC) is detectable on chest radiogaph and can accurately represent the magnitude of calcified change throughout the entire aorta. Calcification involving the aortic arch is observed as a curvilinear density along the ascending aorta and the arch. [23, 24, 25]
Syphilitic aortitis, an inflammatory aortitis involving the ascending aorta, sinuses of Valsalva, and the aortic valve, is associated with aortic insufficiency, ascending aortic aneurysms, and a positive serologic test for syphilis. In these patients, calcification occurs in a linear pattern along the ascending aorta. On gross specimen examination, the aorta has been described as revealing a "tree-bark" appearance, as shown in the frontal chest radiograph below.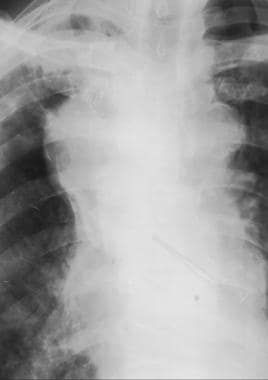 Frontal chest radiograph reveals calcification involving the ascending aorta in a patient with syphilitic aortitis. Courtesy of Mysore Seetharaman, MD.
Calcification of the pulmonary artery is rare and almost always represents long-standing pulmonary hypertension. It may involve the main and/or central pulmonary arteries (see the images below).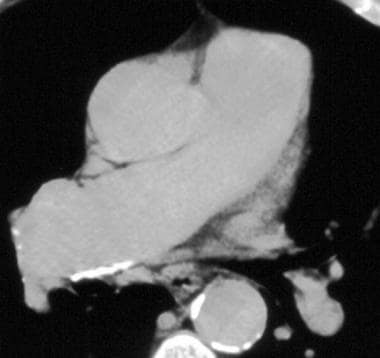 Calcification in the right main pulmonary artery in a patient with chronic, interstitial lung disease and pulmonary hypertension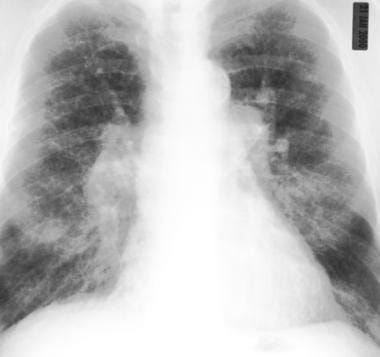 Frontal chest radiograph in the same patient as in the previous image reveals changes of diffuse, interstitial lung disease. Pulmonary artery calcification is barely visualized.
Calcification of the ductus arteriosus is observed on a frontal chest radiograph as a curvilinear or nodular density between the aorta and pulmonary trunk.
---
Did this answer your question?
Additional feedback? (Optional)
Thank you for your feedback!