Answer
Answer
Valvular calcification identified radiographically suggests the presence of a hemodynamically significant stenosis. Dominant valvular insufficiency is not associated with radiographic depiction of calcification, except in patients with calcified stenotic valves secondarily destroyed by endocarditis. The aortic valve calcification is detected most frequently. [19]
In bicuspid aortic valves, calcification may be nodular, semilunar, or mushroom shaped. A dilated ascending aorta often is seen. A thick, irregular, semilunar ring pattern with a central bar or knob is typical of stenotic bicuspid valves and results from calcification of the valve ring and the dividing ridge of the 2 cusps or the conjoined leaflet, as seen in the radiograph below.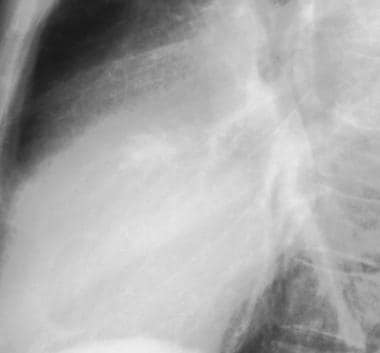 Lateral chest radiograph demonstrating thick calcification of a bicuspid aortic valve in a patient with previously repaired coarctation
In mitral valve calcification, a nodular or amorphous pattern of calcification is observed, and signs of rheumatic mitral stenosis frequently are present. These include enlargement of the LA, especially the LA appendage, and pulmonary venous hypertension with cephalization and interstitial edema seen as Kerley B lines. Detection of mitral valve calcification from chest radiographs is uncommon; echocardiographic detection is far more common. Detection of the calcification has surgical implications, since in such instances valve replacement is preferred to commissurotomy.
Calcification of the pulmonary valve occurs rarely in patients with pulmonary valvular stenosis. If valve calcification is identified radiologically, the gradient across the valve often exceeds 80 mm Hg; valvar calcification also may be observed in patients with long-standing, severe pulmonary hypertension.
Tricuspid valve calcification is rare and is most frequently caused by rheumatic heart disease; however, it has been associated with septal defects, congenital tricuspid valve defects, and infective endocarditis.
---
Did this answer your question?
Additional feedback? (Optional)
Thank you for your feedback!