Answer
Answer
Radiologic detection of calcifications within the heart is quite common. The amount of coronary artery calcification correlates with the severity of coronary artery disease (CAD). Calcification of the aortic or mitral valve may indicate hemodynamically significant valvular stenosis. Myocardial calcification is a sign of prior infarction, while pericardial calcification is strongly associated with constrictive pericarditis. Therefore, detecting and recognizing calcification related to the heart on chest radiography and other imaging modalities such as fluoroscopy, CT, and echocardiography may have important clinical implications. [1, 2, 3, 4]
Coronary artery calcium (CAC) progression is associated with coronary and cardiovascular event rates, but it adds only weakly to risk prediction. What counts is the most recent CAC value and risk factor assessment. Therefore, a repeat scan more than 5 years after the first scan may be of additional value, except when a double-zero CT scan is present or when the patients are already at high risk. [5]
See the images of cardiac calcifications below.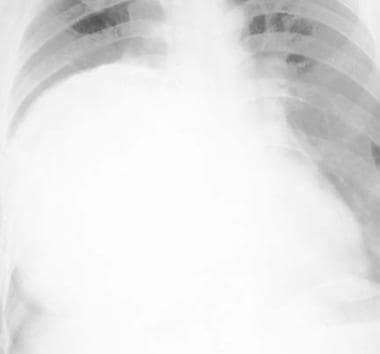 Frontal chest radiograph demonstrates a large calcified pericardial cyst. Courtesy of Mysore Seetharaman, MD.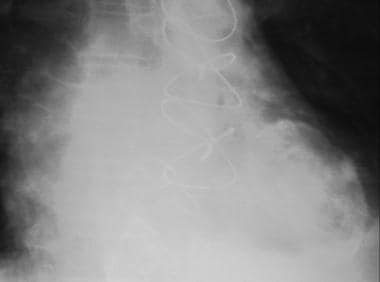 Calcification in a left ventricular aneurysm in a patient with significant coronary artery disease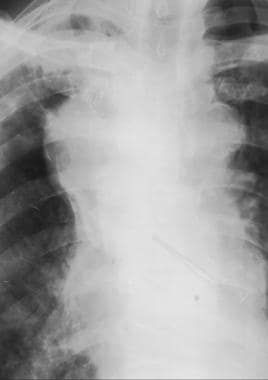 Frontal chest radiograph reveals calcification involving the ascending aorta in a patient with syphilitic aortitis. Courtesy of Mysore Seetharaman, MD.
In patients with diabetes mellitus, by determining the presence of coronary calcifications, patients at risk for future myocardial infarction and coronary artery disease could be identified, and future events could be excluded if no coronary calcifications were present. [6]
A study of participants from the Multi-Ethnic Study of Atherosclerosis (MESA), a prospective cohort study of 6814 males and females aged 45 to 84 years without known cardiovascular disease from 4 race/ethnicity groups (white [38.5%], African American [27.5%], Hispanic [22.1%], and Chinese [11.9%]) reported CAC scores had significant long-term (>10 years) value in prognosticating cardiovascular disease in patients with metabolic syndrome and diabetes. A CAC score of 0 was associated with low cardiovascular disease risk independent of diabetes duration, insulin use, or glycemic control. [7]
A separate study of MESA participants found patients with CAC and extra-coronary calcium (ECC) are at markedly higher risk of incident hypertension and may benefit from more intensified prevention efforts. [8]
In an asymptomatic population, determination of the presence of coronary calcifications identified patients at risk for future myocardial infarction and coronary artery disease independent of concomitant risk factors. In patients without coronary calcifications, future cardiovascular events could be excluded. [9]
---
Did this answer your question?
Additional feedback? (Optional)
Thank you for your feedback!