Answer
Answer
Ultrasonography (US) is used as an adjunct to mammography for breast imaging, enabling the further characterization of abnormalities detected on mammography and providing biopsy guidance. [12] US enables the visualization of ductal pathologies that are smaller than a centimeter, as well as associated ductal changes that cannot be detected on mammography, especially in women with dense breasts (see images below). US can detect the causative lesion(s), along with orientation of the surrounding ductal structures involved, which is helpful in planning the method of biopsy or the extent of surgery. [2]
Adding US to diagnostic mammography can help detect additional cancers in women with pathologic nipple discharge. [13] Also, the addition of US in patients with pathologic nipple discharge who had negative findings on mammography led to the detection of malignancies in 15.1% of these patients by US-guided core needle biopsy, without additional diagnostic surgery. [14]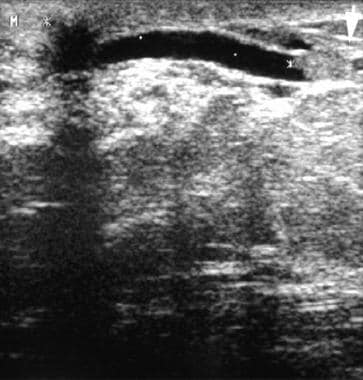 A 45-year-old woman with serosanguineous discharge from her right nipple presented with no other clinical symptoms. Mammography was unrevealing. Ultrasonography revealed a 3-mm dilated duct with an intraluminal lesion (arrow) located close to the nipple. Cytology revealed epithelial cell fragments in a papillary formation. Histopathology confirmed the presence of a papilloma.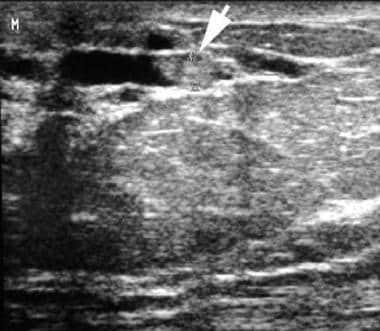 Additional ultrasonogram obtained in the same patient as in the immediately preceding image.
---
Did this answer your question?
Additional feedback? (Optional)
Thank you for your feedback!