Answer
Answer
Mammography or digital breast tomosynthesis (DBT) is the first-line study for a pathologic discharge in most patients. Mammography is limited because of its poor sensitivity of 20–25%. [3] A negative mammogram in the context of nipple discharge does not therefore exclude any underlying disease, and ultrasound is performed immediately after mammography even if the mammogram is normal.
According to the American College of Radiology (ACR) Appropriateness Criteria, for women 30 to 39 years of age, either mammography or ultrasonography may be used as the initial examination. For women aged 30 years or younger, ultrasound should be the initial examination, with mammography/DBT added when ultrasound shows suspicious findings or if the patient is predisposed to developing breast cancer. For men aged 25 years or older, mammography/DBT should be performed initially, with ultrasound added as indicated, given the high incidence of breast cancer in men with pathologic nipple discharge. Although MRI and ductography (galactography) are not usually appropriate as initial examinations, each may be useful when the initial standard imaging evaluation is negative. ACR Appropriateness Criteria are summarized in Table 1 below. [4]
Table 1. ACR Appropriateness Criteria for Evaluation of Nipple Discharge (Open Table in a new window)
Indications

Mammography

Digital breast tomosynthesis

Ultrasound

Comments

Physiologic discharge in women of any age

1

1
1
Pathologic discharge in men or women aged 40 years or older
9
9
9
US is usually complementary to mammography. It can be an alternative to mammography if the patient had a recent mammogram or is pregnant.
Pathologic discharge in men or women aged 30-39 years
9
9
9
US can be used as an initial examination in place of mammography in women in this age range. For men, it is complementary to mammography.
Pathologic discharge in women aged 29 years or younger
5
5
9

Mammography and/or DBT may be complementary when initial US shows a suspicious finding or the patient is BRCA positive or has another genetic mutation predisposing to breast cancer.

Pathologic discharge in men aged 29 years or younger
8
8
9
When the patient is younger than 25 years, US may be the initial examination, with mammography added as indicated. Mammography or DBT should be performed as the initial study in men older than 25 years, given the high incidence of cancer in men with pathologic nipple discharge.

Scales are designated 1-9, where 1, 2, 3 = usually not appropriate; 4,5,6 = may be appropriate; and 7,8, 9 = usually appropriate.

DBT = digital breast tomosynthesis; US = ultrasound.

Note: The following modalities were rated 1 for initial examination in all indications: ductography, MRI breast without and with IV contrast, fluorine-18-2-fluoro-2-deoxy-d-glucose positron emission mammography (FDG-PEM ), Tc-99m sestamibi molecular breast imaging (MBI).
Modern, high-resolution ultraasonographic techniques are becoming more sensitive for the visualization of intraductal changes. Tiny, solitary papillomas can sometimes be visualized by using this sophisticated technology (see the images below).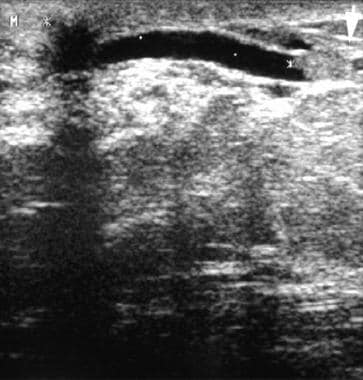 A 45-year-old woman with serosanguineous discharge from her right nipple presented with no other clinical symptoms. Mammography was unrevealing. Ultrasonography revealed a 3-mm dilated duct with an intraluminal lesion (arrow) located close to the nipple. Cytology revealed epithelial cell fragments in a papillary formation. Histopathology confirmed the presence of a papilloma.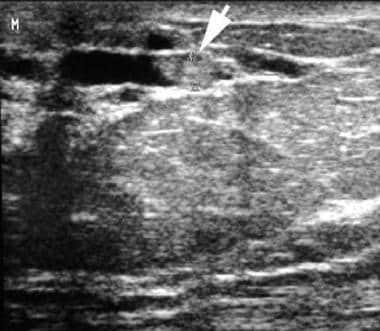 Additional ultrasonogram obtained in the same patient as in the immediately preceding image.
A meta-analysis has reported a higher diagnostic performance of MRI compared with ductography (galactography) in the detection of any kind of lesion in patients with pathologic nipple discharge. Moreover, high sensitivity and very high specificity for cancer by MRI could be confirmed in this clinical setting. If mammography and ultrasound are negative, MRI should be considered over ductography (galactography) for further evaluation. [5]
---
Did this answer your question?
Additional feedback? (Optional)
Thank you for your feedback!