Answer
Answer
Scintimammography is performed by using technetium-99m sestamibi (MIBI). [15] Research demonstrates that sestamibi is a lipophilic complex that can penetrate the cell membrane, preferentially in tumor cells. [16] Scintimammography employs a wide range of instrumentation applications. Conventional planar scintimammography has been enhanced by single-photon emission computed tomography (SPECT) and hybrid SPECT/CT. Hybrid SPECT/CT adds clinical value by co-registering physiologic with anatomic data to assist nonpalpable lesion biopsies, radiotherapy planning, and treatment follow-up. [10]
Single-photon emission computed tomography improves resolution of planar-prone images. Initial data showed 83-97% sensitivity for palpable lesions and less than 50% sensitivity in lesions smaller than 1 cm. Sestamibi imaging is limited because tracer uptake is dependent on tumor size and tumor histology; other limitations are due to detector resolution.
(See the images below.)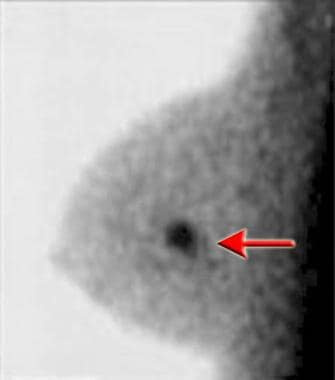 Lateral scintimammogram obtained with technetium-99m sestamibi shows a 2-cm palpable breast cancer in the center of the breast (see arrow).
Dedicated small field of view (FOV) breast-specific gamma imaging (BSGI) devices have also emerged as an alternative to contrast-enhanced MRI because of better depiction of location and size of lesions. A meta-analysis comparing diagnostic performance of BSGI to MRI reported the pooled sensitivities of BSGI and MRI to be 0.84 (95% CI, 0.79-0.88) and 0.89 (95% CI, 0.84-0.92), respectively, and the pooled specificities of BSGI and MRI were 0.82 (95% CI, 0.74-0.88) and 0.39 (95% CI, 0.30-0.49) respectively. [17]
---
Did this answer your question?
Additional feedback? (Optional)
Thank you for your feedback!