Answer
Answer
Ultrasonography of the breast, in conjunction with mammography and clinical breast examination, can be extremely helpful in evaluating postsurgical changes in the breast. Ultrasonography is usually performed with a high-frequency linear-array transducer (10 MHz or greater). The examination is directed toward palpable or mammographic lesions. Information regarding the internal architecture, shape, and margins of a lesion are used to determine if a lesion is cystic or solid.
Sonographic findings subsequent to surgery may include skin thickening (scarring), architectural distortion of the parenchyma, and development of a mass and/or calcifications (scarring, fibrosis, fat necrosis). These findings can appear on the sonogram as hypoechoic or hyperechoic structures and/or masses with acoustic shadowing. They can mimic cancer, thus prompting a thorough workup to determine if tissue sampling is indicated to exclude malignancy. In the acute stage, hematomas may be ill defined or may present as a mass containing complex echoes with distal acoustic enhancement or shadowing. In time, the hematoma organizes and becomes more masslike, and the fluid becomes more hypoechoic and may even appear cystic.
(See the ultrasound images of the postsurgical breast below.)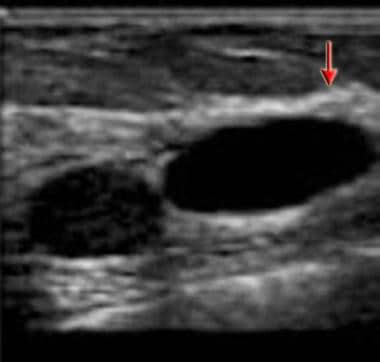 Ultrasonogram demonstrates 2 ovoid, smooth, thin-walled, anechoic masses with acoustic enhancement. The larger is anechoic, compatible with a simple cyst (see arrow). The smaller contains some internal echoes, although it also was shown to represent a cyst.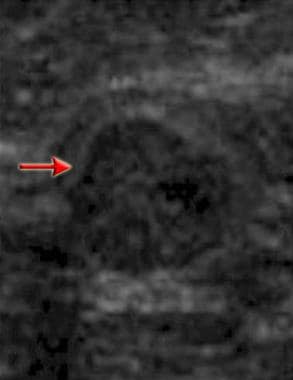 Ultrasonogram demonstrates a complex mass with internal echoes (see arrow). This appearance is consistent with a resolving hematoma after surgery. Solid masses (benign and malignant) can also demonstrate this sonographic appearance.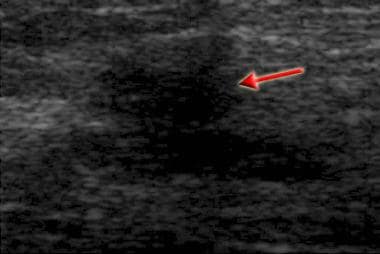 Ultrasonogram demonstrates acoustic shadowing and an irregular hypoechoic mass (see arrow). This appearance can be seen in cancers as well as in postsurgical scars.
---
Did this answer your question?
Additional feedback? (Optional)
Thank you for your feedback!