Answer
Answer
BCT involves the removal of the breast cancer with a surrounding rim of noncancerous tissue. Some patients undergo complete lymph node dissection, whereas other patients undergo only a sentinel lymph node biopsy. Most patients undergo adjuvant radiation therapy to the breast to eradicate any possible residual occult cancer.
The expected changes on mammography after breast conservation surgery include skin thickening or edema, parenchymal edema, postoperative fluid collection, scarring, fat necrosis, and dystrophic calcifications, which are more marked up to 6 months after therapy. Recurrence on mammographic imaging may be observed as a mass or microcalcifications, increased skin thickening, increased breast density, scar enlargement, axillary nodal recurrence, or Paget disease. [3]
Acute mammographic changes observed after BCT are usually related to the extent of surgery and the time elapsed since radiation therapy. Mammograms performed during the acute surgical period usually demonstrate findings related to the surgery, such as skin and/or trabecular edema, seromas, architectural distortion, and surgical clips placed within the tumor bed. Patients may have early postoperative mammograms to document possible residual calcifications and nodules or masses.
Interpreting early mammogram findings may be confusing because masses and architectural distortion may be misinterpreted as residual cancer. Therefore, correlating mammographic findings with the surgical approach and the pathology report is important.
Additional imaging such as compression and/or magnification views and ultrasonography may be useful. A sonogram of a solid mass within the tumor bed would be worrisome for residual cancer in place of the expected finding of a complex fluid collection indicating a seroma or hematoma (see the image below). Differentiating a complex fluid collection from a solid mass is sometimes difficult sonographically. [4]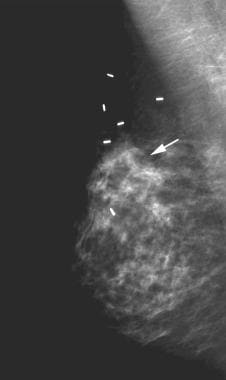 Mediolateral oblique view obtained after breast conservation treatment and axillary dissection in a patient with a 2-cm invasive ductal cancer. Mild architectural distortion is noted in the tumor bed in the upper quadrant of the breast (see arrow). Clips are placed within the tumor bed to assist with radiation therapy planning.
Chronic mammographic findings after BCT are related to the volume of tissue excised and to radiation therapy. Architectural distortion, a spiculated or ill-defined mass, and a change in an appearance of the breast are common findings identified after a lumpectomy. Follow-up mammographic evaluation may involve a 6-month series of mammographic examinations to assess the treated breast. However, some institutions may have different protocols.
Mediolateral oblique, craniocaudal, and mediolateral mammographic images are frequently supplemented by magnification and compression views. In general, radiation and postsurgical changes are noted to be most pronounced immediately after surgery and radiation, with maximum radiation changes at 6-12 months. On subsequent imaging, the areas of distortion and tissue edema should regress or remain stable. Therefore, any developing density or mass or calcifications need to be regarded as suspicious for recurrent cancer and thoroughly evaluated. Tissue sampling of any suspicious or indeterminate finding should be performed.
Recurrences may present at clinical examination or may be detected only on mammography as suspicious microcalcifications or masses. The rate of local recurrence after breast cancer surgery is 1-2% per year. Stability is defined as no interval change on 2 successive mammographic studies and is generally observed at 2-3 years after the completion of radiation therapy. Any retrograde change in imaging findings such as a new mass, microcalcifications, architectural distortion, or an area of increased density at the scar site after stability has been established should raise suspicion for tumor recurrence. [3]
(See the images below.)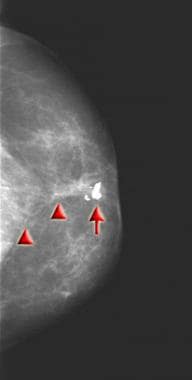 Craniocaudal mammogram obtained 2 years after lumpectomy, axillary dissection, and chemotherapy. Note the periareolar skin thickening and retraction and scarring extending from the nipple to the chest wall as a result of the surgery (see triangles). Coarse macrolobulated calcifications have developed in the surgical site (see arrow).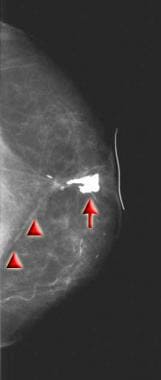 Craniocaudal mammogram obtained in the patient in Image 11 who presented with a palpable mass directly behind the nipple within the prior tumor site, 6 years later. An interval increase has occurred in the amount of dystrophic calcifications and scarring (see triangles) in the tumor bed. The palpable mass corresponded to the large calcification (see arrow). Fine-needle aspiration demonstrated fat necrosis.
The development of calcifications after BCT is problematic because one third to one half of irradiated breasts develop calcifications. Most of the calcifications can be attributed to fat necrosis resulting from the surgery and/or radiation. Suture calcifications may also be seen, especially if catgut sutures were used; however, these types of sutures are no longer used. Biopsy may be indicated when the calcifications appear suspicious or indeterminate.
---
Did this answer your question?
Additional feedback? (Optional)
Thank you for your feedback!