Answer
Answer
Percutaneous breast biopsies commonly are performed on masses and calcifications and include fine-needle aspiration, core-needle biopsy, and cyst aspiration. [2] These procedures involve the introduction of a needle into the suspicious lesion, usually under ultrasonographic or stereotactic guidance. A sample of tissue is removed and analyzed by the pathologist.
(See the image below.)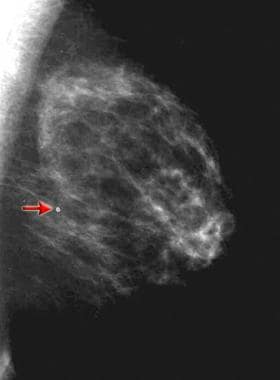 Immediate mediolateral view after a stereotactic biopsy for calcifications in the inferior breast. Little mammographic evidence reveals that a biopsy has occurred, except for the placement of a clip (see arrow).
Mammographic findings immediately after percutaneous biopsy are usually related to bleeding and the local anesthesia injected into the biopsy area. These findings include increased density in the area, formation of a mass (hematoma), and trabecular thickening from edema. A clip may be left intentionally in the biopsy area to document the sampled lesion. In most women, the biopsy area heals with little or no residual evidence on the mammogram other than reduced or absent calcifications or the presence of a marking clip.
---
Did this answer your question?
Additional feedback? (Optional)
Thank you for your feedback!