Answer
Answer
The pathophysiology of postsurgical changes, as observed on mammograms, is associated with the type of surgical intervention and the time elapsed since the procedure. The 4 most common breast interventional procedures are percutaneous biopsy; excisional breast biopsy; breast conservation treatment (BCT); and breast reduction, augmentation, or reconstruction. Postsurgical mammographic findings are also related to the time sequence from the procedure and can be classified into 2 general categories: acute changes and chronic changes.
(See the image below.)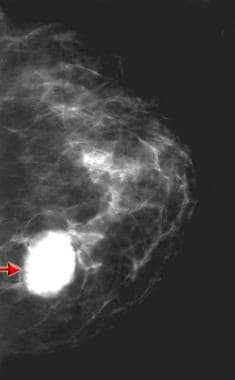 Postbiopsy craniocaudal mammogram of the breast obtained immediately after stereotactic biopsy of a lesion (same patient as in Image above). Interval development of a mass has occurred in the biopsy bed (see arrow); this finding is consistent with a hematoma. A marking clip has been placed.
---
Did this answer your question?
Additional feedback? (Optional)
Thank you for your feedback!