Answer
Answer
The accurate interpretation of images of the postsurgical breast depends on the availability of high-quality pictures and pertinent medical and surgical breast history. Many findings can be mistaken for cancer. Skin thickening, architectural distortion, and other indicators of malignancy can be seen in both malignant and benign conditions. Prior breast surgery, trauma, and breast conservation treatment (BCT), or lumpectomy, can result in scarring and distortion as seen on imaging studies. These findings can be mistakenly interpreted as suspicious for malignancy. Thus, understanding the expected postsurgical imaging findings is important to ensuring an accurate interpretation and recommendation. [1]
(See the image below.)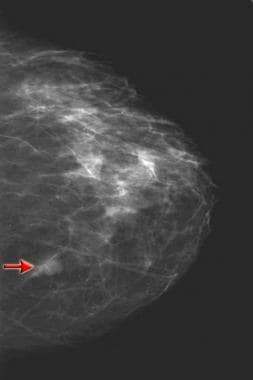 Prebiopsy craniocaudal mammogram demonstrates a 1-cm mass in the medial aspect of the breast (see arrow). Subsequent stereotactic biopsy was performed.
---
Did this answer your question?
Additional feedback? (Optional)
Thank you for your feedback!