Answer
Breast cancer almost always enhances on T1-weighted images after gadolinium enhancement. Multiple sequences, acquired before and after the administration of contrast, are compared to assess the rate enhancement and washout. The lesions are best imaged with fat-suppression techniques to eliminate the high signal intensity from fat on T1-weighted sequences. Two-dimensional (2D) or 3D techniques with gradient-echo sequences are time efficient and now largely used.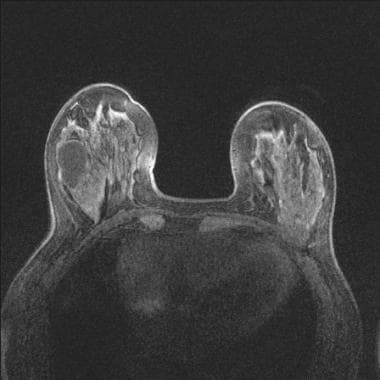 T1-weighted image with fat suppression before contrast. There is a large cyst in the right breast. The cancer in the left breast is isointense to normal tissue and very difficult to see.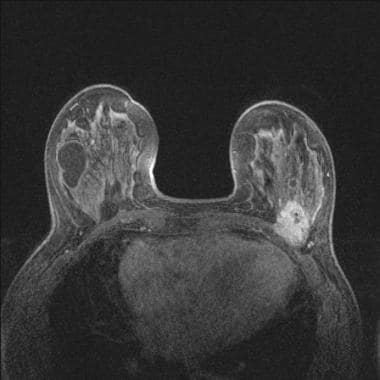 Same patient as in previous image: T1-weighted image with fat suppression after contrast clearly shows the posterior cancer invading the pectoralis major on the left.
The moderate specificity of MRI results in the detection of some lesions that may represent cancer and can only be seen with MRI. Special techniques have been developed to biopsy such lesions, using MRI for guidance .
---
Did this answer your question?
Additional feedback? (Optional)
Thank you for your feedback!