Answer
The role of ultrasonograph y in breast imaging is a subject of ongoing discussion. Sonography is widely accepted as the method of choice for the diagnostic differentiation of cysts from solid masses and for guidance in interventional procedures. Indeed, ultrasound can confidently diagnose a harmless cyst as the cause of a palpable lump or mammographic mass, thereby obviating the need for biopsy. The combination of a normal mammogram and a normal sonogram has a negative predictive value greater than 98%. However, if there is a concerning physical exam finding, palpation-guided biopsy may still be indicated. The use of sonography as an adjuvant to mammography may increase accuracy by up to 7.4%. [20]
On sonograms, solid lesions with smooth or gently lobulated margins that are sharply defined, with homogeneous hypoechoic contents and an orientation parallel to the chest wall, are usually benign. Solid hypoechoic lesions with irregular margins, an orientation perpendicular to the chest wall, acoustic shadowing are suspicious, and biopsy is indicated to rule in or rule out malignancy. Solid hypoechoic lesions with irregular and poorly defined margins and with shadowing and vertical orientation are considered to be probably malignant. The lesions may show infiltration into the surrounding fatty tissue or other features associated with malignancy. [20, 21, 22, 23] Some cancers can mimic benign tumors and appear well defined.
See the images below.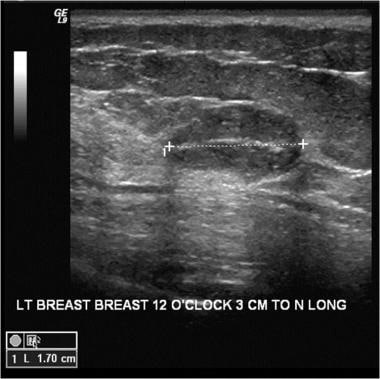 An ultrasound of a benign breast mass with circumscribed margins and oval shape; in this case, the mass is a fibroadenoma.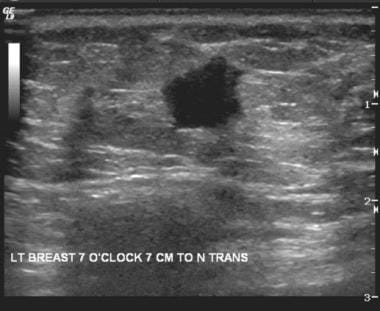 Ultrasound shows a suspicious hypoechoic mass with angular margins; in this case, the mass is an invasive ductal carcinoma.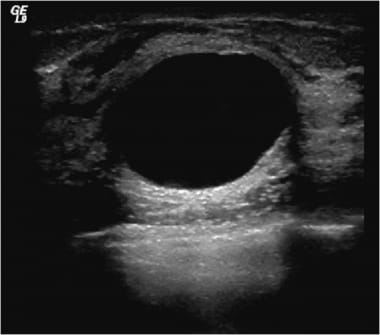 Ultrasound shows an anechoic cyst with smooth margins and enhanced through transmission. This is benign and does not need any imaging follow-up.
According to a multicenter trial conducted by the American College of Radiology Imaging Network, screening breast ultrasound detects 4.2 additional cancers per 1000 women with normal mammograms. [24] The advantage of ultrasound includes the low compression and lack of radiation. The major disadvantage is the high callback rate and a low positive predictive value of 10%.
A study from Korea that included over 100,000 patients reported a cancer detection rate of 3.4/1000. [25]
There is no randomized control trial showing a long-term mortality benefit associated with screening breast ultrasound. Screening breast ultrasound adds to health care costs, as a test that is performed in addition to mammography. The average callback rate from ultrasound is significantly higher than that of mammography, which also results in additional costs of diagnostic testing, time away from work, patient anxiety, and, in some cases, biopsy.
In September 2012, the U.S. Food and Drug Administration approved the first ultrasound system, the somo-v Automated Breast Ultrasound System (ABUS), for breast cancer screening in combination with standard mammography specifically for women with dense breast tissue. [26]
Current practice and recommendations from the American College of Radiology suggest that mammography is always the first choice for screening of all women. In addition, screening breast ultrasound should be considered in high-risk patients who cannot tolerate MRI or in intermediate-risk patients with category C or D breast density.
---
Did this answer your question?
Additional feedback? (Optional)
Thank you for your feedback!