Answer
A ductogram, or galactogram, is used to acquire images of the lumen of an individual duct and can help determine the cause of nipple discharge. In this procedure, a fine plastic tube (30-gauge) is placed into the opening of the suspected duct in the nipple. A small amount (0.1 to 0.3 cc) of iodinated contrast medium is injected, which outlines the shape of the duct on a mammogram and shows whether a mass is present inside the duct.
See the image below.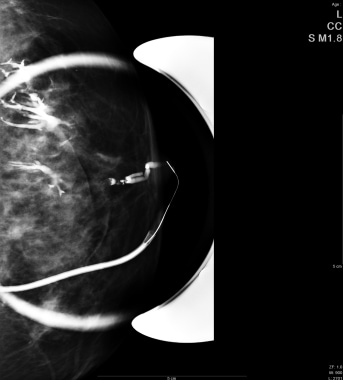 Mammographic spot image during a ductogram shows contrast (white) within the catheter and branching ductal system.
---
Did this answer your question?
Additional feedback? (Optional)
Thank you for your feedback!