Answer
There are 2 types of mammography examinations: screening and diagnostic. Screening mammography is done in asymptomatic women. Early detection of small breast cancers by screening mammography greatly improves a woman's chances for successful treatment.
A screening examination consists of 2 images of each breast in the cranial-caudal (CC) and medio-lateral-oblique (MLO) projections that are viewed together. For screening mammography, each breast is imaged separately.
See the images below.
Image from a mammogram shows a benign mass: a fibroadenoma with well-defined edges and a halo sign.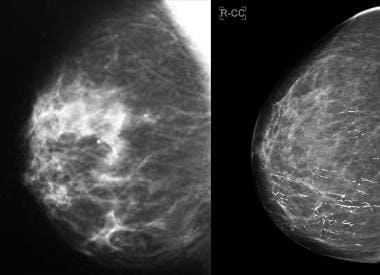 Benign microcalcifications: secretory change.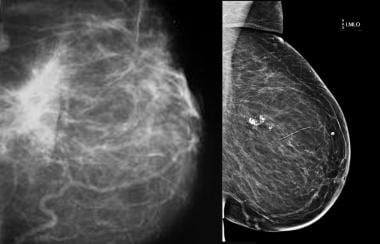 Traumatic fat necrosis. Mammogram shows traumatic fat necrosis following removal of a lesion. The stellate lesion has a halo center.
---
Did this answer your question?
Additional feedback? (Optional)
Thank you for your feedback!