Answer
Because of early detection, intervention, and postoperative treatment, breast cancer mortality has been decreasing. Mammography is the preferred screening examination for breast cancer. It is widely available, well-tolerated and inexpensive. Randomized controlled trials have demonstrated a mortality benefit for women from 40 to 74 years old. Some studies have shown that mammography may be particularly beneficial for women who are 80 years of age and older. [2, 3]
The earliest sign of breast cancer can be an abnormality depicted on a mammogram, before it can be felt by the woman or her physician. When breast cancer has grown to the point where physical signs and symptoms appear, the patient feels a breast lump (usually painless).
Screening mammography accounts for the greatest contribution to early detection and decrease in breast cancer mortality, although its use has resulted in a minor increase in the number of in situ cancers detected. According to the American Cancer society the death rate from breast cancer was increasing until 1990 when the advent of widespread screening began to have an effect on the population. The death rate from breast cancer has decreased by 34% between 1990 and 2010 in the United States. [4] See the image below.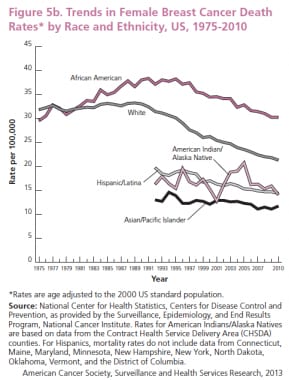 Trends in female breast cancer death rates by race and ethnicity, US, 1975-2010. Since the widespread adoption of screening mammography in the later 80s, the death rate from breast cancer has decreased 34%. Courtesy of the American Cancer Society (American Cancer Society. Breast Cancer Facts and Figures 2013-2014. Atlanta: American Cancer Society, Inc.).
Anatomy of the breast.
---
Did this answer your question?
Additional feedback? (Optional)
Thank you for your feedback!