Answer
Answer
Magnetic resonance imaging (MRI) was first used to visualize multiple sclerosis (MS) in the upper cervical spine in the late 1980s. [1] Spinal MS is often associated with concomitant brain lesions; however, as many as 20% of patients with spinal lesions do not have intracranial plaques. Contrary to the white and gray matter in the brain, white and gray matter can both be affected in the spine. No strong correlation has been established between the extent of the plaques and the degree of clinical disability. [2, 3, 4, 5, 6] Spinal cord atrophy is most relevant to progressive forms of MS (primary progressive and secondary progressive), in which it closely links to physical disability. [4, 5]
MRI is currently considered to be the most sensitive diagnostic imaging modality for revealing demyelinating plaques, as recommended by the Consortium of Multiple Sclerosis Centers. [7] No specific field strength is recommended. Gadolinium is typically favored. MRI shows abnormalities in 95% of patients with clinically definitive MS. [8, 9]
On long TR sequences, MRI scans show areas of demyelination as high-signal areas. Lesions of other etiologies (eg, viral myelitis, acute disseminated encephalomyelitis [ADEM]) may resemble MS plaques and must be considered along with the clinical history and the patient's presenting signs and symptoms. (For patient education information, see Multiple Sclerosis.)
According to an international group of neurologists and radiologists, the spinal cord MR imaging protocol for MS should include sagittal T1-weighted and proton attenuation, STIR or phase-sensitive inversion recovery, axial T2- or T2-weighted imaging through suspicious lesions, and, in some cases, postcontrast gadolinium-enhanced T1-weighted imaging. [10]
(See the image below).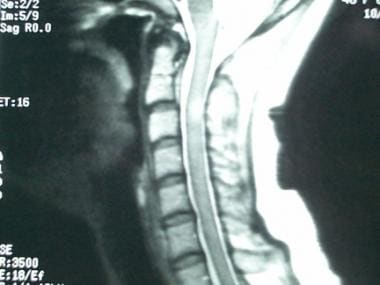 Sagittal, T2-weighted magnetic resonance image of the cervical spinal cord in a woman aged 27 years showing a fusiform area of increased signal intensity representing a multiple sclerosis plaque.
Careful review of the patient's medical history and an evaluation of the brain with MRI can prove helpful in the diagnosis, especially in young females. MS is considered to be the most common demyelinating process involving the central nervous system (CNS). [11, 12]
---
Did this answer your question?
Additional feedback? (Optional)
Thank you for your feedback!