Answer
Endovascular therapy using coil embolization has been increasingly used in recent years with great success as an alternative to surgical clipping, although controversy still exists over which treatment is ultimately superior.
The International Subarachnoid Aneurysm Trial (ISAT) of neurosurgical clipping versus endovascular coiling attempted to provide clarification by comparing outcomes in patients who were suitable for both treatments. In this randomized multicenter trial conducted mainly in the UK and Europe, the largest of its type, 2143 patients were randomized to either neurosurgical clipping or endovascular coiling. The ISAT reported that independent survival was higher at 1 year with endovascular coiling and that the survival benefit continues for at least 7 years. However, the small risk of late rebleeding found in both groups was higher in the endovascular coiling group, reconfirming the higher long-term anatomic cure rate of surgery. [128, 129, 130]
Endovascular treatment of aneurysms may be favored over surgical clipping in the following situations:
Aneurysm location that is difficult to access surgically, eg, cavernous ICA, basilar terminus

Small-necked posterior fossa aneurysms

Patients with poor clinical grade
Factors mitigating against endovascular treatment include the following:
Wide-based aneurysms or those without an identifiable neck

Aneurysms with a vessel extending off the aneurysm dome

Patients with severely atherosclerotic or tortuous vessels that limit the endovascular approach
Vasospasm may be treated with intra-arterial pharmaceutical agents, such as verapamil or nicardipine or with balloon angioplasty for opening larger vessels. The combination of the 2 treatments appears to provide safe and long-lasting therapy of severe clinical significant vasospasm (see the images below). [131]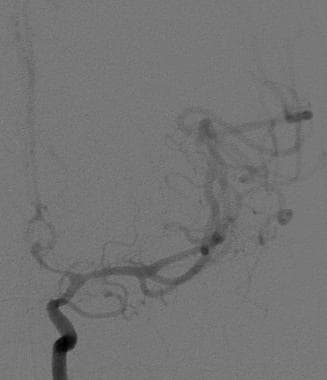 Frontal view from a cerebral angiogram in a 41-year-old male who presented 7 days prior with subarachnoid hemorrhage from a ruptured anterior communicating artery aneurysm treated with surgical clipping. Significant narrowing of the proximal left anterior cerebral artery (ACA), left M1 segment, and left supraclinoid internal carotid artery (ICA) indicates vasospasm.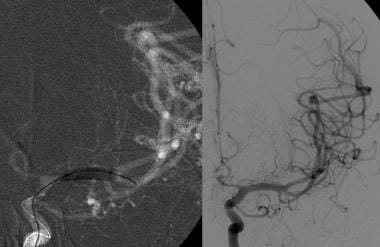 Angiographic view in the same patient (image on left) with superimposed road map image demonstrate placement of a wire across the left M1 segment and balloon angioplasty. The left proximal anterior cerebral artery (ACA) and supraclinoid internal carotid artery (ICA) were also angioplastied and intra-arterial verapamil was administered. Follow-up image on the right after treatment demonstrates resolution of the left M1 segment and distal ICA, which are now widely patent. Residual narrowing is seen in the left proximal ACA.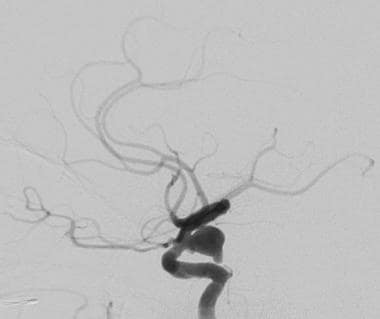 Cerebral angiogram was performed in a 57-year-old male with family history of subarachnoid hemorrhage and found on previous imaging to have a left distal internal carotid artery (ICA) aneurysm. The lateral projection from the angiogram demonstrates a narrow-necked aneurysm arising off the posterior aspect of the distal supraclinoid left ICA with an additional nipple-like projecting off the inferior aspect of the dome of the aneurysm. Mild lobulated dilatation of the cavernous left ICA is also present.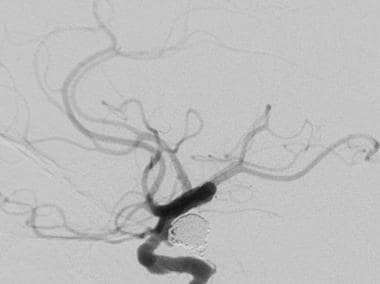 Follow-up cerebral angiogram in the same patient as previous image after coil embolization. Multiple coils were placed with sequential occlusion of the aneurysm, including the nipple at its inferior aspect. A small amount of residual filling is noted at the proximal neck of the aneurysm, which may thrombose over time.
---
Did this answer your question?
Additional feedback? (Optional)
Thank you for your feedback!