Answer
FDA approval of IV tPA was based on data from the National Institute of Neurological Disorders and Stroke (NINDS) trial, which demonstrated an excellent outcome in 50% of patients treated with IV tPA compared with 38% of controls. [8]
It was previously thought that treatment with IV tPA must be initiated within 3 hours of onset of clearly defined neurologic deficit. However, recent guidelines have changed in response to the growing number of studies that have shown a benefit in select patients within 4.5 hours of symptom onset. [25, 118]
Evidence-based guidelines have also recommended against administering IV tPA in patients with greater than one-third involvement of the middle cerebral artery distribution or with well-defined areas of hypoattenuation on CT, due to an increased risk of intracranial hemorrhage. [13, 25, 119]
Efficacy appears to be highest in moderate to less-severe strokes in which the ICA or a major cerebral artery is not occluded. [13, 120]
Patients must be carefully selected due to the small but significant increased risk of hemorrhage associated with IV tPA (see the image below).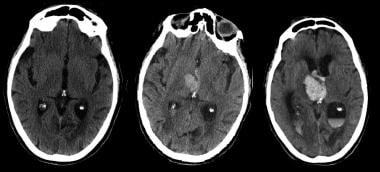 Thrombolytic therapy carries a small but significant risk of life-threatening hemorrhage. For this reason, carefully screening for exclusionary criteria prior to administering tPA is important; this criteria includes hemorrhage, large areas of infarction, and patient presentation beyond the 3-hour window for IV tPA or possibly beyond 6 hours for IA tPA. This case illustrates this point in a patient with normal NCCT who was treated with IV tPA for acute stroke and, over the next 2 days, developed significant hemorrhage. Hemorrhage is noted to progressively increase in size along the medial margin of the right thalamus and the third ventricle. Obstructive hydrocephalus with hemorrhage layering is seen in the dependent portions of the occipital horns.
---
Did this answer your question?
Additional feedback? (Optional)
Thank you for your feedback!