Answer
Arterial occlusions are present in at least 75% of patients present with acute ischemic stroke who undergo angiography within 6-8 hours of onset of symptoms (see the image below).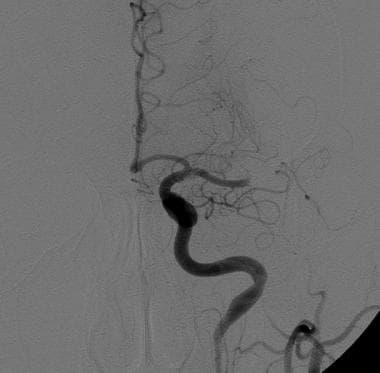 Middle cerebral artery (MCA) occlusion: This patient was a 64-year-old male who presented within 3 hours of onset of aphasia and right-sided weakness. Frontal view from a selective injection of the left internal carotid artery during a cerebral angiogram demonstrates filling of the anterior cerebral artery with an abrupt cut-off at the middle third of the M1 segment of the left MCA with no distal filling.
Arterial occlusions are found in the vast majority of patients with NIHSS (National Institutes of Health Stroke Scale) scores of 10 or higher (moderate and severe stroke), reportedly up to 97% in one recent study. [108, 109]
In patients presenting with acute stroke, most lesions are intracranial occlusions, including the carotid siphon, compared with extracranial occlusions, which comprise 25-30%. [110] Nearly half of intracranial occlusions are secondary to MCA occlusion.
Intracranial occlusions are mostly due to embolic phenomena from a cardiac source or the carotid arteries. The relative lack of intracranial atherosclerotic and atherothrombotic lesions in autopsy studies further points to emboli being the major etiology. [110]
In the carotid arterial system, significant correlations appear to occur between the size of the infarction on CT and the extent of the vessel stenosis seen on angiograms. Furthermore, the likelihood of deficit recovery is inversely proportional to the degree of pathology seen in CT, MRI, or angiography. [111]
Angiography remains the criterion standard for the imaging of vascular diseases of the brain and great vessels of the neck and serves a vital role for acute stroke intervention. However, angiography may be normal in patients with smaller and less severe strokes or with distal arterial occlusions.
Diffusion-weighted imaging is the criterion standard for imaging infarction. Perfusion imaging with MRI or CT remain the best methods for estimating the ischemic penumbra.
Negative angiograms are believed to be secondary to early recanalization or from disease in small, penetrating arteries beyond the resolution of angiography. Negative angiography becomes more frequent as angiograms are performed later after stroke onset.
---
Did this answer your question?
Additional feedback? (Optional)
Thank you for your feedback!