Answer
Transcranial Doppler evaluates cerebral blood flow velocity and detects microembolic signals in patients who suffer from cerebral or retinal ischemia. Microembolic signals in symptomatic carotid artery stenosis are associated with an increased risk of a recurrent ipsilateral focal ischemia and correlate with a greater number of MRI-detectable cerebral infarcts when compared with patients free from microembolism. [99]
Transcranial Doppler images are obtained by placing a low-frequency probe in the temporal area above the zygomatic arch. Transorbital views can also be used to evaluate the ophthalmic artery, and transforaminal views through the foramen magnum can be used to evaluate the vertebrobasilar arterial system. The cerebral arteries can be localized based on depth measurements and color flow images (see the image below).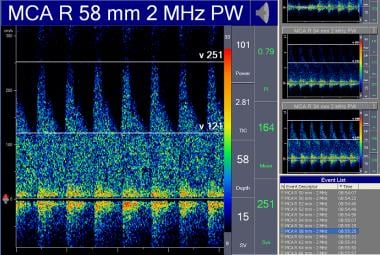 Transcranial Doppler demonstrates pulsatile flow in the right-middle cerebral artery in a 40-year-old patient following subarachnoid hemorrhage and vasospasm. At a depth of 58 mm (near the origin of the middle cerebral artery [MCA]), a markedly elevated peak systolic flow velocity of approximately 251 cm/s and a mean velocity of approximately 164 cm/s indicates severe MCA stenosis. Normal peak and mean MCA flow velocities are approximately 100 cm/s and 50 cm/s, respectively.
---
Did this answer your question?
Additional feedback? (Optional)
Thank you for your feedback!