Answer
The consensus panel of the Society of Radiologists in Ultrasound has stratified degrees of carotid stenosis using the following major criteria: [97]
No narrowing is reported if the ICA peak systolic velocity is below 125 cm/s with no plaque or intimal thickening.

Less than 50% stenosis is reported when ICA PSV is less than 125 cm/s but plaque or intimal thickening is visible sonographically.

Fifty to 70% stenosis is reported when ICA PSV is 125-230 cm/s exists with visible plaque.

More than 70% stenosis but less than near occlusion is reported when ISA PSV is more than 230 cm/s with visible plaque and significant but not near complete luminal narrowing.

Near complete occlusion is diagnosed by demonstrated marked narrowing on color Doppler or power Doppler ultrasound. PSV is less reliable in this case.

Total occlusion is present when no patent lumen is identified on grayscale images or on color, spectral, or power Doppler ultrasound. Total occlusion needs to be confirmed with CTA, MRA, or conventional angiography.
If a dissection is identified, the proximal and distal extents need to be identified. This may require further imaging with CT or MRI (see the images below).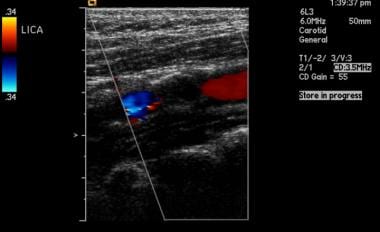 Color Doppler ultrasound of the left internal carotid artery was obtained in a 57-year-old male with history of transient ischemic attacks. A large amount of plaque is seen in the proximal left internal carotid artery producing a high-grade stenosis. However, color flow is noted distal to the stenosis.
Pulsed Doppler waveforms in the same patient demonstrate a markedly elevated peak systolic velocity in the proximal internal carotid artery (ICA) of 252 cm/s. The second waveform, obtained more distally in the same stenosis, demonstrates a velocity of greater than 400 cm/s. The stenosis is more than 70 and, based on gray scale and color flow assessment, appears near occlusive. This illustrates the importance of carefully sampling along the course of a stenosis for the highest peak systolic velocity.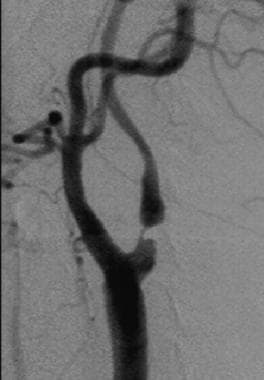 Digital subtraction angiogram performed in the same patient as previous photo confirms the near occlusion with a "string sign" in the proximal left internal carotid artery.
---
Did this answer your question?
Additional feedback? (Optional)
Thank you for your feedback!