Answer
The most commonly used technique for MR perfusion imaging is dynamic susceptibility, which involves generating maps of brain perfusion by monitoring the first pass of a rapid bolus injection of contrast through the cerebral vasculature. A large amount of data exists confirming the sensitivity of combining diffusion and perfusion weighted MRI to detect the ischemic penumbra and also predict the potential final infarct size without treatment. [13]
Maps of time to peak (TTP) or mean time to enhancement (MTE) are very sensitive to alterations in blood flow, similar to MTT CT perfusion maps. However, these maps may also overestimate the amount of significantly ischemic tissue.
CBV also may be artificially elevated in response to hypoperfusion due to compensatory autoregulatory mechanisms.
The sensitivity of each MR perfusion map varies in its ability to depict areas of ischemia, similar to CT perfusion parameters. Susceptibility related T2 effects create signal loss in capillary blood vessels and parenchyma perfused by contrast that can be measured and is proportional to the cerebral blood volume (see the image below).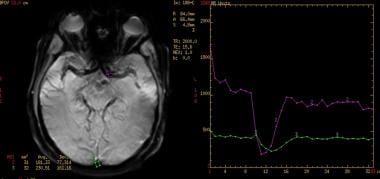 Regions of interest are selected for arterial and venous input (image on left) for dynamic susceptibility-weighted perfusion MRI. Signal-time curves (image on right) obtained from these ROI demonstrate transient signal drop following the administration of intravenous contrast. The information obtained from the dynamic parenchymal signal changes post contrast are used to generate maps of different perfusion parameters.
Areas of prolonged mean transit time (MTT) correspond to areas of ischemia and areas of diminished cerebral blood volume correlate best with the areas of irreversible ischemic change. The difference between the perfusion abnormality and diffusion abnormality reflects the ischemic penumbra around the infarct core (see the images below).

Left internal carotid artery (ICA) occlusion: Axial FLAIR images demonstrate high signal in the centrum semiovale in the deep borderzone region with corresponding restricted diffusion, indicating infarction. MIP from a time-of-flight MRA of the circle of Willis demonstrates no flow in the left ICA or anterior circulation on the right.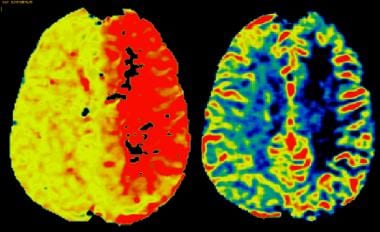 Left internal carotid artery (ICA) occlusion: MR perfusion imaging demonstrates global and marked elevation in mean transit time (image on left) in most of the left cerebral hemisphere, sparing only part of the posterior circulation. This demonstrates how MTT is extremely sensitive to abnormalities in perfusion. The CBV (image on right) is markedly depressed more centrally in the deep and subcortical white matter, consistent with the infarction noted on DWI.
---
Did this answer your question?
Additional feedback? (Optional)
Thank you for your feedback!