Answer
Three different techniques can be used to produce MRA, as follows:
Time of flight (TOF): TOF takes advantage of the higher signal from protons in flowing blood, compared with protons in stationary tissue that become partially saturated and lose signal when exposed to a radiofrequency (RF) pulse. Areas of signal loss and narrowing correspond to stenosis and occlusions.
Phase contrast (PC): PC involves tagging the spins of moving protons using bidirectional gradients and marking their changes in position when each gradient is applied. PC is exquisitely sensitive to flow, which the operator can choose the velocity threshold for, and gives excellent background suppression.
Contrast-enhanced MRA (CEMRA): CEMRA uses the intraluminal signal produced by a timed bolus of paramagnetic contrast material to evaluate vessel patency. Images may be single phase (ie, arterial) or time resolved.
The flow-related enhancement on TOF images is a T1 effect. Similarly, clot-containing methemoglobin may also create intravascular high signal that is indistinguishable from signal related to flow. Phase contrast images are not susceptible to this problem.
Signal loss may be seen when images vessels are imaged in the plane of the scan.
Susceptibility effects may cause signal loss in cavernous portion of the internal carotid artery adjacent to the sphenoid sinus.
As previously discussed, the most widely used vascular MRI techniques are 3DTOF and gadolinium enhanced MRA (see the images below).
TOF MRA demonstrates an occlusion or high-grade stenosis at the mid to distal right middle cerebral artery (MCA) trunk. MRA is highly accurate at helping to evaluate large intracerebral vessel stenosis, although less reliable than CT scanning at helping to grade stenosis.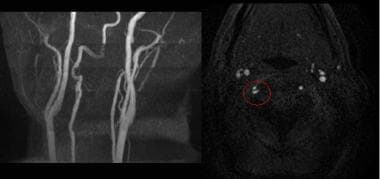 3D time-of-flight (TOF) of the neck axial and MIP images demonstrates a 2-cm low-signal curvilinear dissection flap in the mid right vertebral artery. This patient has a history of fibromuscular dysplasia and prior carotid artery dissection.
---
Did this answer your question?
Additional feedback? (Optional)
Thank you for your feedback!