Answer
Intra-arterial contrast enhancement may be seen secondary to slow flow during the first or second day after onset of infarction and has been correlated with increased infarct volume size. [95]
Early parenchymal enhancement on MRI by the end of the first week has been reported as an expected finding from disruption of the blood-brain barrier and development of granulation tissue later. It is correlated with an increased risk of hemorrhagic transformation but no risk of increased infarct size (see the image below). [95]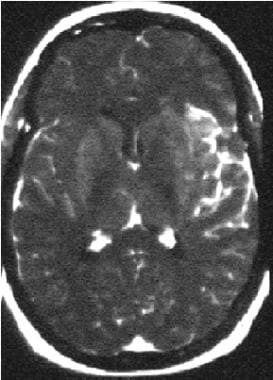 Axial T1-weighted postcontrast image obtained in a patient with recent stroke demonstrates arterial enhancement within the left middle cerebral artery (MCA) as well as cortical and subcortical enhancement in the adjacent insular and opercular regions. The arterial enhancement is believed to be due to slow flow and underlying impaired hemodynamics. Early parenchymal enhancement may indicate good collateral supply.
---
Did this answer your question?
Additional feedback? (Optional)
Thank you for your feedback!