Answer
High signal intensity may be seen on T2WI and proton density–weighted images beginning approximately 8 hours after onset corresponding to a vascular distribution. T1WI may take significantly longer to demonstrate low signal. [77, 78] Conventional MRI may take hours to produce discernible findings, well after the diffusion-weighted images have become positive. For this reason, many centers always include diffusion-weighted images in their standard brain MRI protocol. [79, 80, 81]
FLAIR images demonstrate abnormal signal sooner than T2WI and have been shown to be useful in detecting infarcts within 3 hours after onset of acute stroke. [82]
FLAIR images may also demonstrate intra-arterial signal that is hyperintense or isointense to gray matter. This is believed to occur immediately after occlusion, similar to the dense vessel sign seen on CT. [82]
FLAIR images have been shown to be more sensitive to detect acute stroke than standard T2WI, with a sensitivity of greater than 90% and in as little as 80 minutes in one study. This is likely due to higher T2 weighting capability of FLAIR compared to standard T2WI. [77, 78]
The FLAIR intra-arterial sign has been reported to have an extremely high degree of detectability for occluded vessels within 6 hours after stroke. [82]
FLAIR images are highly sensitive for subarachnoid hemorrhage, approaching 100% for large volumes of hemorrhage. [83]
GRE (T2 images) are likely the most sensitive for detecting blood products. [84, 85, 86]
FLAIR images can demonstrate high signal in the subarachnoid spaces with SAH (see the image below).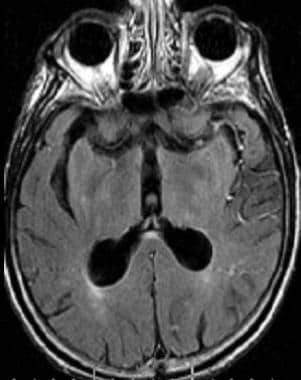 Axial FLAIR image demonstrates intra-arterial high signal in the left middle cerebral artery (MCA) of this patient with early stroke. The intra-arterial high signal has been postulated to be secondary to different factors, including stasis, slow or reversed flow, and thrombus.
---
Did this answer your question?
Additional feedback? (Optional)
Thank you for your feedback!