Answer
The most common cause of atraumatic hemorrhage into the subarachnoid space is rupture of an intracranial aneurysm. Aneurysms are focal dilatations of arteries, with the most frequently encountered intracranial type being the berry aneurysm or saccular aneurysms. Aneurysms may less commonly be related to altered hemodynamics related to arteriovenous malformations, collagen-vascular disease, polycystic kidney disease, septic emboli, and neoplasms.
Nonaneurysmal perimesencephalic subarachnoid hemorrhage may also be seen and is thought to arise from capillary or venous rupture. It has a less severe clinical course and, in general, better prognosis.
Berry aneurysms are most commonly isolated lesions that form due to a combination of hemodynamic stresses and acquired or congenital weakness in the vessel wall. Saccular aneurysms typically occur at vascular bifurcations, with more than 90% occurring in the anterior circulation. These include the junction of the anterior communication arteries and anterior cerebral arteries most commonly, the middle cerebral artery bifurcation, the supraclinoid internal carotid artery at the origin of the posterior communicating artery, and the bifurcation of the ICA.
The pathologic effects of SAH on the brain are multifocal. SAH results in elevated intracranial pressure and impairs cerebral autoregulation. This, in combination with acute vasoconstriction, microvascular platelet aggregation, and loss of microvascular perfusion, results in profound reduction in blood flow and cerebral ischemia (see the images below). [30]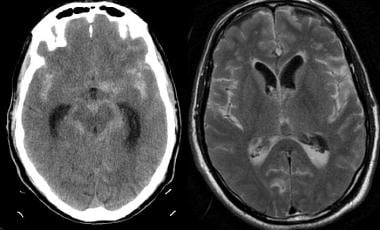 Noncontrast CT scan was performed emergently in this 71-year-old male who presented with acute onset of severe headache and underwent rapid neurologic deterioration requiring intubation. The noncontrast CT (left image) demonstrates diffuse, high-density subarachnoid hemorrhage in the basilar cisterns and both Sylvian fissures. Diffuse loss of gray-white differentiation is present. The FLAIR image demonstrates high signal throughout the cortical sulci, basilar cisterns, and in the dependent portions of the ventricles. FLAIR is highly sensitive to acute subarachnoid hemorrhage because of the suppression of high CSF signal lending to greater conspicuity of SAH compared with conventional MRI sequences.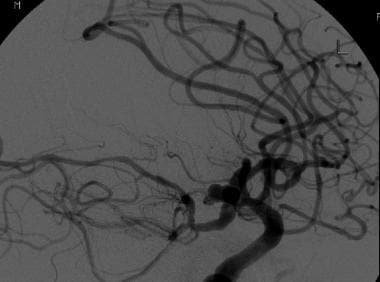 This patient subsequently underwent a CTA and subsequent cerebral angiography. Multiple aneurysms were identified, including a 9-mm aneurysm at the junction of the anterior cerebral and posterior communicating arteries seen on this lateral view of an internal carotid artery (ICA) injection. Balloon-assisted coil embolization was performed.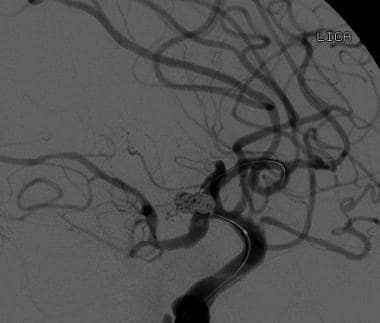 Lateral view of a selective injection of the left internal carotid artery demonstrates a microcatheter passing distal to the aneurysm neck. This lateral view from an angiogram performed during balloon-assisted coil embolization demonstrates significantly diminished filling of the aneurysm.
---
Did this answer your question?
Additional feedback? (Optional)
Thank you for your feedback!