Answer
The most common etiology of primary hemorrhagic stroke (intracerebral hemorrhage) is hypertension, with at least two thirds of patients with primary intraparenchymal hemorrhage reported to have preexisting or newly diagnosed hypertension. Hypertensive small vessel disease results from tiny lipohyalinotic aneurysms that subsequently rupture and result in intraparenchymal hemorrhage. Typical locations include the basal ganglia, thalami, cerebellum, and pons (see the images below). The remaining cases of spontaneous intraparenchymal hemorrhage may be secondary to vascular malformations (eg, arteriovenous malformations and cavernous malformations) or amyloid angiopathy. [5, 27, 28, 23, 29]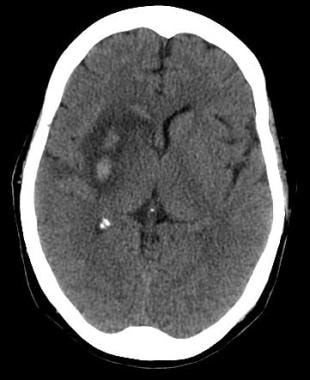 Axial noncontrast CT scan of the brain in a 60-year-old male with history of acute onset of left-sided weakness demonstrates 2 areas of intracerebral hemorrhage in the right lentiform nucleus with surrounding edema and effacement of the adjacent cortical sulci and right sylvian fissure. Mass effect is present upon the frontal horn of the right lateral ventricle with intraventricular extension of hemorrhage.

Noncontrast CT of the brain (left) demonstrates an acute hemorrhage in the left gangliocapsular region with surrounding white matter hypodensity consistent with vasogenic edema. T2-weighted axial MRI (middle image) demonstrates the hemorrhage with surrounding high-signal edema. The coronal gradient echo image (right) demonstrates susceptibility related to the hematoma with markedly low signal adjacent the left caudate head. Gradient echo images are highly sensitive for blood products.
---
Did this answer your question?
Additional feedback? (Optional)
Thank you for your feedback!