Answer
Hemorrhagic transformation represents the conversion of a bland infarction into an area of hemorrhage. Proposed mechanisms for hemorrhagic transformation include reperfusion of ischemically injured tissue, either from recanalization of an occluded vessel or from collateral blood supply to the ischemic territory or disruption of the blood brain barrier. With disruption of the blood-brain barrier, red blood cells extravasate from the weakened capillary bed, producing petechial hemorrhage or more frank intraparenchymal hematoma. [5, 23, 24]
Hemorrhagic transformation of an ischemic infarct occurs within 2-14 days post ictus, usually within the first week. It is more commonly seen following cardioembolic strokes and is more likely with larger infarct size. [5, 7, 8] Hemorrhagic transformation is also more likely following administration of tPA and with noncontrast CT demonstrating areas of hypodensity (see the image below). [13, 25, 26]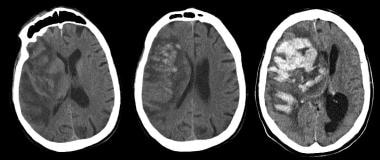 Noncontrast CT (left) obtained after this 75-year-old male was admitted for CVA; scan demonstrates a large right middle cerebral artery distribution infarction with linear areas of developing hemorrhage. These become more confluent on day 2 of hospitalization (middle image), with increased mass effect and midline shift. Massive hemorrhagic transformation occurs by day 6 (right) with increased leftward midline shift and subfalcine herniation. Obstructive hydrocephalus is also noted with dilatation of the lateral ventricles, likely due to compression of the foramen of Monroe. Intraventricular hemorrhage is also noted, layering in the left occipital horn. Larger infarctions are more likely to undergo hemorrhagic transformation and are one contraindication to thrombolytic therapy.
---
Did this answer your question?
Additional feedback? (Optional)
Thank you for your feedback!