Answer
Cardiogenic emboli are a common source of recurrent stroke (see the image below). They may constitute up to 20% of acute stroke and have been reported to have the highest 1-month mortality. Risk factors include atrial fibrillation and recent cardiac surgery. Cardioembolic strokes may be isolated, multiple and in a single hemisphere, or scattered and bilateral; the latter two indicate multiple vascular distributions and are more specific for cardioembolism. Multiple and bilateral infarcts can be the result of embolic showers or recurrent emboli. Other possibilities for single and bilateral hemispheric infarctions include emboli originating from the aortic arch and diffuse thrombotic or inflammatory processes that can lead to multiple small vessel occlusions. [19, 20]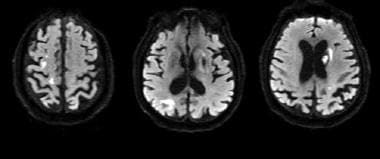 Cardioembolic stroke: Axial diffusion-weighted images demonstrate scattered foci of high signal in the subcortical and deep white matter bilaterally in a patient with a known cardiac source for embolization. An area of low signal in the left gangliocapsular region may be secondary to prior hemorrhage or subacute to chronic lacunar infarct. Recurrent strokes are most commonly secondary to cardioembolic phenomenon.
---
Did this answer your question?
Additional feedback? (Optional)
Thank you for your feedback!