Answer
Large artery occlusion typically results from embolization of atherosclerotic debris originating from the common or internal carotid arteries or from a cardiac source. A smaller number of large artery occlusions may arise from plaque ulceration and in situ thrombosis. Large-vessel ischemic strokes more commonly affect the middle cerebral artery territory, with the anterior cerebral artery territory affected to a lesser degree (see the images below).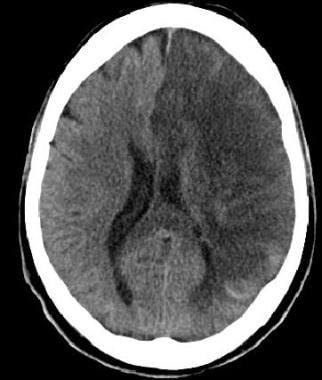 Noncontrast CT in this 52-year-old male with history of worsening right-sided weakness and apahasia demonstrates diffuse hypodensity and sulcal effacement involving the left anterior and middle cerebral artery territories consistent with acute infarction. Scattered curvilinear areas of hyperdensity are suggestive of developing petechial hemorrhage in this large area of infarction.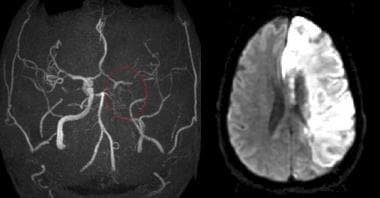 MRA in the same patient (left) demonstrates occlusion of the left precavernous supraclinoid internal carotid artery (ICA, red circle), occlusion or high-grade stenosis of the distal middle cerebral artery (MCA) trunk and attenuation of multiple M2 branches. The diffusion-weighted image (right) demonstrates high signal confirmed to be true restricted diffusion on the ADC map consistent with acute infarction.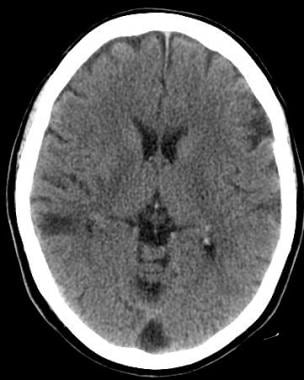 This 60-year-old female underwent NCCT after an episode of left upper extremity weakness. NCCT demonstrates cortical and subcortical hypodensity involving the right mid to anterior temporal lobe.
MIP image from a CTA demonstrates a filling defect or high-grade stenosis at the branching point of the right MCA trunk (red circle), suspicious for thrombus or embolus. CTA is highly accurate in detecting large vessel stenosis and occlusions, which comprise approximately one third of ischemic strokes.
---
Did this answer your question?
Additional feedback? (Optional)
Thank you for your feedback!