Answer
Neuroimaging plays a vital role in the workup of acute stroke by providing information essential to accurately triage patients, expedite clinical decision making with regard to treatment, and improve outcomes in patients presenting with acute stroke. Rapid and accurate diagnosis is crucial. [8] CT allows time-critical decision-making in stroke patients, informing decisions on thrombolytic therapy with tPA, which has a narrow therapeutic index. [9]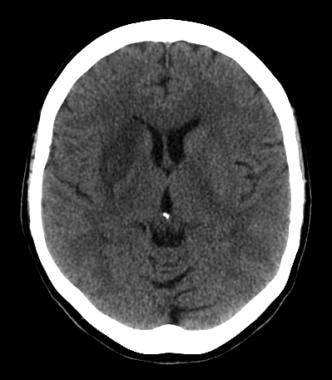 Axial noncontrast computed tomography (NCCT) demonstrates diffuse hypodensity in the right lentiform nucleus, with mass effect upon the frontal horn of the right lateral ventricle. The patient is a 70-year-old female with history of left-sided weakness for several hours duration.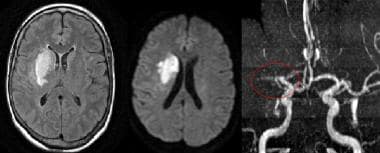 MRI was subsequently obtained in the same patient. An axial T2 FLAIR image (left) demonstrates high signal in the lentiform nucleus with mass effect. The axial diffusion-weighted image (middle) demonstrates high signal in the same area with corresponding low signal on the apparent diffusion coefficient (ADC) maps, consistent with true restricted diffusion and an acute infarction. Maximum intensity projection from a 3D time-of-flight MRA (right) demonstrates occlusion of the distal middle cerebral artery (MCA) trunk (red circle).
---
Did this answer your question?
Additional feedback? (Optional)
Thank you for your feedback!