Answer
Answer
Nonenhanced computed tomography (CT) images typically show focal nodular areas of high attenuation, representing high tumor cellularity, with ill-defined margins and little surrounding vasogenic edema (see the first image below). Corresponding contrast-enhanced CT images usually demonstrate marked and diffuse enhancement of the lesions (see the second image below). [23, 24]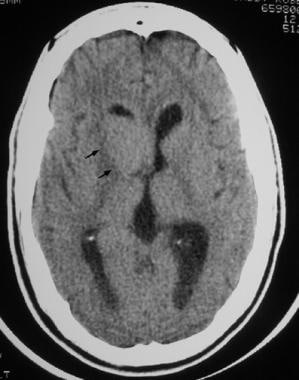 Nonenhanced CT scan of the head on a 56-year-old woman with a change in mental status shows a nodular, moderately hyperattenuating lesion adjacent to the right lateral ventricle, within the head of the caudate nucleus.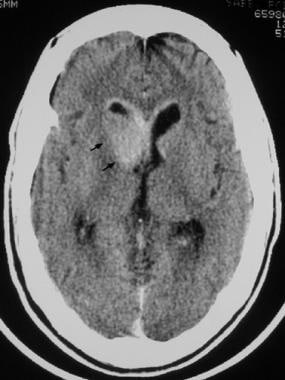 Intravenously contrast-enhanced CT scan of the head demonstrates a uniformly attenuating, enhancing mass lesion adjacent to the right lateral ventricle and ependymal enhancement in the frontal horns of the lateral ventricles.
In patients with AIDS-related immunocompromise, lymphomas often appear as ring-enhancing lesions (see the image below) because of central areas of necrosis. The enhancing ring typically appears thick and nodular.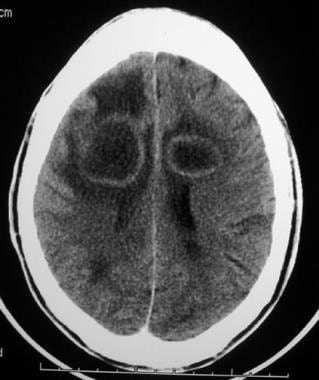 Nonenhanced head CT scan of a 38-year-old African American patient with HIV infection shows 2 bilateral, parietal, white matter lesions with central low attenuation and surrounding vasogenic edema.
Calcifications do not occur in lymphoma, except rarely in patients who have undergone prior radiation therapy. Hemorrhage in lymphoma is rare. Contrast-enhancing, thickened ependyma may be seen.
In patients with immunodeficiency or immunosuppression, other lesions, such as toxoplasmosis, cryptococcosis, metastasis, and pyogenic abscess, may have the same ring-enhancing appearance as that of CNS lymphoma. Clinical correlation is necessary in diagnosis.
Although radiographic findings may suggest CNS lymphoma in the proper clinical setting, such findings are often not pathognomonic. Other lesions, such as toxoplasmosis, abscesses, cryptococcoma, glioma, and metastases, may have a similar appearance.
---
Did this answer your question?
Additional feedback? (Optional)
Thank you for your feedback!