Answer
Answer
Magnetic resonance imaging (MRI) is the examination of choice for CNS lymphoma because of its high sensitivity and multiplanar capability. [13, 11, 14, 15] MRI scans typically show a single or multiple poorly demarcated masses, more or less deeply located within the brain parenchyma. These masses demonstrate uniform intense gadolinium enhancement with little or no edema. [16] Although sensitive, MRI characteristics are not specific for CNS lymphoma; however, MRI findings may be suggestive of lymphoma in the proper clinical setting. [17, 18, 19, 20]
(See the image below.)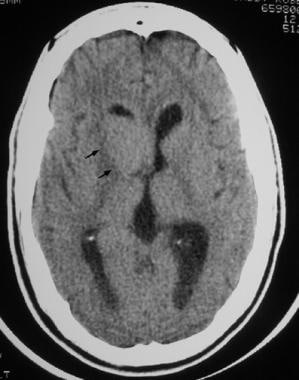 Nonenhanced CT scan of the head on a 56-year-old woman with a change in mental status shows a nodular, moderately hyperattenuating lesion adjacent to the right lateral ventricle, within the head of the caudate nucleus.
Approximately 10-30% of patients with systemic lymphoma have secondary CNS involvement [21, 22] ; primary lymphomas represent approximately 70-90% of all CNS lymphomas. Secondary systemic and primary CNS lymphomas have similar imaging characteristics. Meningeal involvement occurs commonly in patients with secondary lymphoma; it occurs less frequently in patients with primary lymphoma. Of patients with primary lymphoma, 75-85% present with supratentorial tumor. As many as 50% of patients present with multiple tumor nodules.
---
Did this answer your question?
Additional feedback? (Optional)
Thank you for your feedback!