Answer
Inclusion body myositis is histologically similar to polymyositis, with the additional presence of intracytoplasmic inclusion bodies observed on electron microscopy. Dermatomyositis shows inflammatory changes, predominantly in the perimysial and perivascular regions with CD4+ T and B lymphocytes (see the image below). Corticosteroid-induced myopathy causes no inflammatory changes. Type II fiber atrophy is the characteristic feature.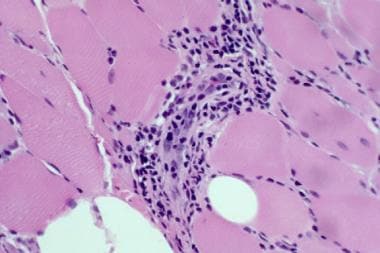 Polymyositis. Hematoxylin and eosin paraffin shows dermatomyositis. In dermatomyositis, inflammation is characteristically perivascular and perimysial. Vessel oriented approximately vertically in the center has a mild perivascular chronic inflammatory infiltrate. The endothelium is plump. The wall is not necrotic. A few lymphocytes in the wall of the vessel are probably in transit from the lumen to the external aspect of the vessel. Some observers may interpret this finding as vasculitis, but it is certainly neither necrotizing vasculitis nor arteritis. Image courtesy of Roberta J. Seidman, MD.
---
Did this answer your question?
Additional feedback? (Optional)
Thank you for your feedback!