Answer
Muscle-imaging techniques such as magnetic resonance imaging (MRI) and ultrasonography may be useful to document and localize the extent of muscle involvement. MRI scans show signal intensity abnormalities of muscle due to inflammation, edema, or scarring. (See the image below.) Whole-body MRI can also identify associated extramuscular diseases, such as interstitial lung disease and systemic malignancy. [27]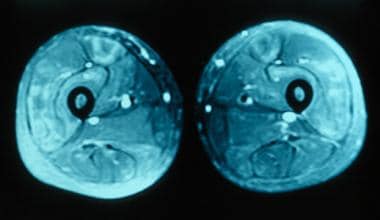 Polymyositis. MRI of thighs showing increased signal in the quadriceps muscles bilaterally consistent with inflammatory myositis.
MRI scans may also be used to guide muscle biopsy and to monitor disease activity. [28] However, many clinicians choose the biopsy site on the basis of findings at electromyography and clinical examination and believe that MRI is not required. Barium swallow studies are helpful for evaluation of dysphagia or dysphonia.
---
Did this answer your question?
Additional feedback? (Optional)
Thank you for your feedback!