Answer
Polymyositis is an immune-mediated syndrome secondary to defective cellular immunity that is most commonly associated with other systemic autoimmune diseases. It may be due to diverse causes that occur alone or in association with viral infections, malignancies, or connective-tissue disorders.
Evidence points toward a T-cell–mediated cytotoxic process directed against unidentified muscle antigens. Supporting this conclusion is the involvement of CD8 T cells, which, along with macrophages, initially surround healthy nonnecrotic muscle fibers and eventually invade and destroy them. (See the image below.)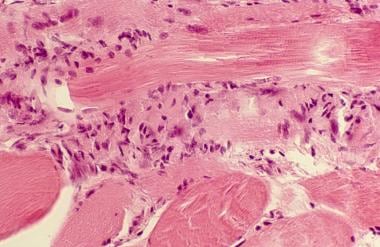 Close view of muscle biopsy, showing chronic inflammatory infiltrate consisting of T lymphocytes, especially CD8+ T lymphocytes.
---
Did this answer your question?
Additional feedback? (Optional)
Thank you for your feedback!